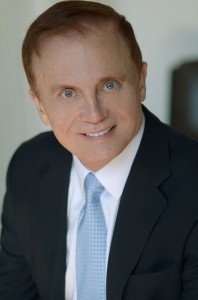 Robert Regan, a distinguished executive recognized for consistent innovation in the production of groundbreaking digital media content and delivery strategies and a 1975 graduate of Mount Wachusett Community College, will deliver the keynote address during the college's 48th Commencement on May 16.
Regan, honored as Mount Wachusett's Alumnus of the Year in 1989, forged a career record of revolutionary consumer, media, communication and technology platform product development for broadcast, cable, online and mobile channels.
A native of Lowell, Regan has served as president and chief operating officer for Twin Entertainment, a joint venture of the U.S.–based Interactive Network and U.K.–based Two Way TV, Ltd.; senior vice president of programming and content for GTE MainStreet, the first two-way cable television service in the U.S.; executive producer of NBC's "Mall of America," the first major network shopping show; and senior vice president of programming, news and operations for the Financial News Network (now CNBC).
Recognized for consistent innovation in the production of groundbreaking digital media content and delivery strategies, Regan was recently appointed founding director of the Dr. John Keshishoglou Center for Global Communications Innovation, an executive graduate program with an industry think tank based at Ithaca College.
"We are delighted to welcome distinguished alumnus Bob Regan back as our commencement speaker as we celebrate the 50th anniversary of the founding of MWCC," said President Daniel M. Asquino. "Bob's extraordinary career in the field of communications began here and went far, which makes him an inspiring role model for our graduates, who are moving forward with their own dreams and aspirations."
Regan attended MWCC from 1973 to 1975 during a time when many students were the first in their families to go on to higher education, overcoming tremendous odds to graduate, he recalled. He would set out in the morning in a black 1965 Buick Special he bought for $1 from a neighbor.
"I remember having my radio on and driving along Route 2. I had no power steering, there was a hole in the driver's side floor, but I had a hope and a dream that I was going to be able to get to the school that day, no matter get my degree or a job," he said.
After earning an associate degree in public communications, which is now the broadcasting & electronic media program, he transferred to Worcester State and earned his bachelor's degree in media with a minor in secondary education in 1977, heeding his parent's advice about having a back-up plan. He went on to Boston University to earn a master's degree in broadcasting in 1979, so he could teach at the college level.
Regan's career began that year as an intern at Boston's WCVB Channel 5, fetching coffee and bagels for celebrities such as the legendary actor Vincent Price. Regan was hired by the station soon after as a production assistant, then promoted to associate producer, and later moved over to WNAC, a CBS affiliate, and WNEV. Among his experiences, he worked as associate producer for Weekday with Ted O'Brien, and producer, videographer and editor for LOOK, a two-hour daily afternoon show, the most ambitious local program in the history of television. Media mogul David Salzman, then president of Telepictures, plucked Regan from the local show to start a nationally syndicated news program from Hollywood. For the next 25 years, he worked with countless celebrities, including Price. Regan hired the avid art collector to host a show in the late 1980s. In short order, Regan was promoted to oversee the production of the syndicated shows "Let's Make a Deal," "Love Connection" and "The People's Court."
Regan credits MWCC and his former public communications professor, Vincent Ialenti, now dean of Academic and Institutional Technology, with providing a strong academic foundation.
"I never imagined when I was sitting at Mount Wachusett on my graduation day, what would happen in my career," Regan said. "The dream came true for the Irish kid from Lowell. I am blessed and I credit Vin. I don't know if he realizes how much of an impact he made on me, and how much of an impact Mount Wachusett makes on all of us," he said.
"I've been very fortunate to follow Bob's career from leaving Mount Wachusett to where he is today," said Ialenti. "He has been on the forefront of a lot of media movements. Now he's looking at the whole picture and working with people who will be the visionaries to develop the communications of the future."