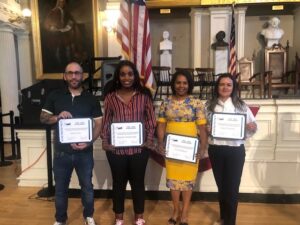 On August 18, 2022 five Mount Wachusett Community College Adult Education students were honored by First Literacy with scholarships.
First Literacy Scholarships are awarded in recognition of educational achievements and potential, community service, and perseverance in the face of hardship. This year, First Literacy awarded 30 scholarships to deserving individuals from community colleges across the Commonwealth. Students Juan Luna and Hajarah Nakalyango were honored as First Year Scholars, Yves Verneret, Bushrah Namirimu, and Lilian R Thimotti were honored as continuing scholars.
"These students are inspiring, consistently rising to the challenges of balancing work, family and school," noted MWCC President James Vander Hooven. "I have such admiration for these students and their achievements."
"These students are amazing," stated Kimberly Kayser, MWCC Adult Education Transition Coordinator. "We are so proud of all they have achieved and continue to achieve."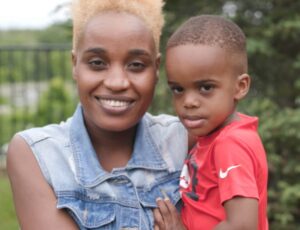 Nakalyango immigrated to the US from Uganda. As a single mother, she worked two jobs to support her son as she pursued her education. She became a Certified Nursing Assistant and is now taking classes in pursuit of a degree in nursing.
"At a certain point I thought I would have to give up on my dream to become a nurse," Nakalyango noted. "This program helped me to improve my English and become a CNA."
Luna, also an immigrant, faced medical issues, unemployment and financial hardships in his home country before coming to the US to seek a better quality of life.
"When I decided to immigrate to the United States of America, I knew that it would be a new challenge, although I did not know how difficult it would be to face a new language and a new culture," noted Luna. "I feel lucky that I began my educational process at Mount Wachusett Community College."
Luna was also the recipient of the William Berman Scholarship which recognizes Mr. Berman's years of dedicated service to First Literacy and his love of learning throughout his life.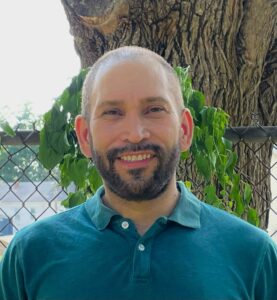 First Literacy reaches approximately 5,000 adult learners and 250 teachers in 150 programs across Massachusetts each year through program grants, free teacher workshops, and student scholarships. Since 1990, the First Literacy Scholarship Program has awarded over 500 scholarships to students in adult basic education or English language programs who are continuing their education. To learn more about First Literacy, visit their website at firstliteracy.org.