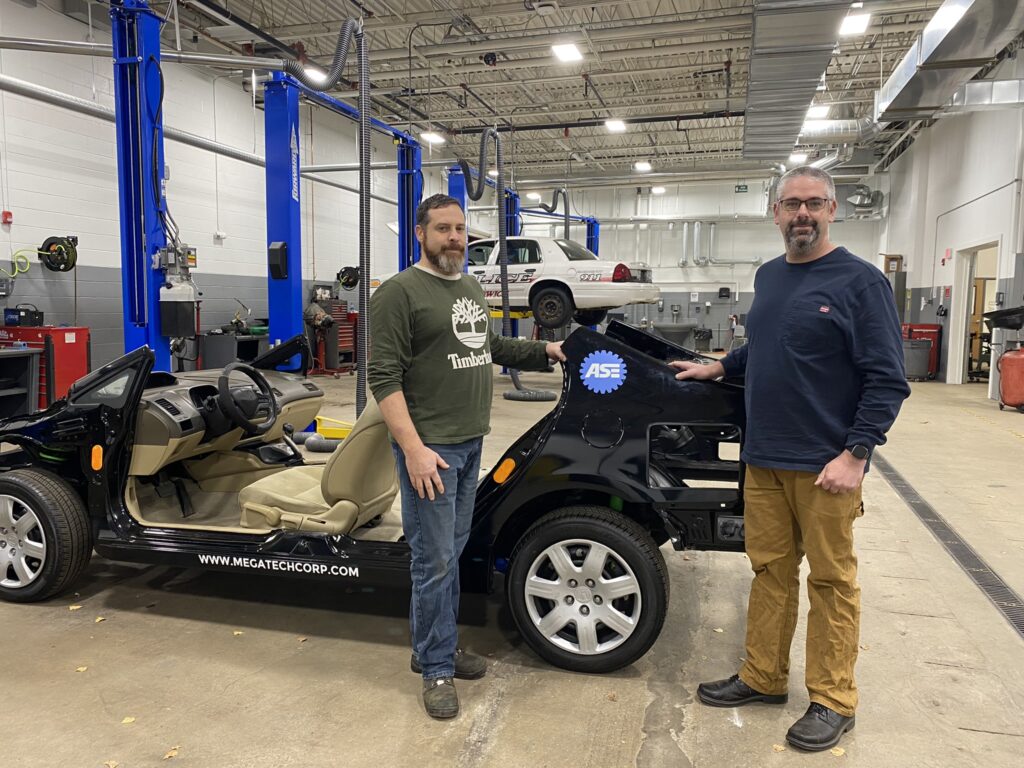 The MWCC Automotive Technology program, which moved to its new 11,000-square-foot facility on Linus Allain Ave in Gardner in 2019, is continuing to grow with the recent addition of two new faculty members.
John Pignataro is Automotive Service Excellence (ASE) and Mazda Elite Certified and a Ford Senior Master Technician experienced in intricate diagnostic repairs. He holds an Associate of Applied Science from Quinsigamond Community College and a certificate from Ohio Automotive Diesel Technician program. He recently recertified his Advanced Engine Performance certification through ASE.
Pignataro has worked in the automotive industry for over thirty years, and previously served as an Automotive Coordinator at Quinsigamond Community College. He also serves on the advisory board of  Assabet Valley Regional Technical High School.
James Siciliano, a MWCC automotive program alumnus, is ASE Certified Master Technician and a Toyota Master Diagnostic Technician as well as a MA State Vehicle Inspector. Siciliano has over 19 years of experience in the automotive industry including work at Lahti's Jeep in Leominster, Allen Mello Dodge in Nashua, and most recently Kotch Rt. 2 Toyota in Lancaster.
The new faculty members join the automotive program at an exciting time in its history. This past summer, MWCC completed the purchase of the Linus Allain building, adding an additional 12,000 square feet of space for future growth.
The MWCC Automotive Program provides students with the opportunity to earn a Certificate in Automotive Technology or an Associate Degree in Automotive Technology. Students develop skills and competencies in diagnostics and repair in preparation for individual ASE Certification. The college also offers individualized self-paced manufacturer-specific training for Mercedes Benz, Ford and Subaru.
An academic preview day and tours of the Automotive Technology facility will be held on Wednesday, November 9, 2022 from 9:00 am to 11:30 am at 42 Linus Allain Ave in Gardner. Interested parties can visit mwcc.edu/auto to learn more and register to attend the preview day.
[Sassy_Social_Preview]