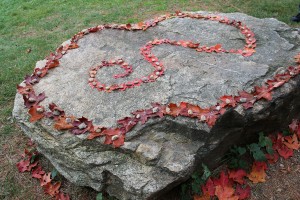 While Mount Wachusett Community College professors find innovative ways for their students to examine Thoreau, the author's lasting influence has also extended into the community.
On Wednesday night, the college held the second event in its ongoing series, "East Meets West in a Cabin in the Woods: Walden and Beyond," the first year-theme of the MWCC Humanities Project. Approximately 45 people gathered at Levi Heywood Memorial Library for UMass Lowell Associate Professor Susan Gallagher's presentation on the historic connection between Thoreau and climate-change research.
Thoreau observed the first flowering dates for over 500 species of wildflowers in Concord between 1851 and 1858, and his observations on nature allow scientists to monitor climate change over the last 150 years, she said.
Inspired by Thoreau and his deep appreciation for nature, students in Art Professor Tom Matsuda's Sculpture 1 course are manipulating sticks, leaves and other natural materials to create temporary environmental sculptures throughout campus. Student sculptures are also reminiscent of those created by Andy Goldsworthy, the renowned British artist who works almost exclusively with natural materials.
"I like sculptures made from nature, and the college's emphasis on Thoreau inspired me to develop this project," said Matsuda. "For students, it opens up a different way of thinking about art and an appreciation for what's around us and encourages creative problem solving. The response from faculty, staff, students and the community has been great."
Amber Martinez, an art major from Winchendon, arranged leaves into a spiral shape on a rock. The way Thoreau and Goldsworthy connected with nature motivated her to forage for natural materials to create a sculpture, she said. "It was a wonderful experience to get out of the convention of traditional art."
Fitchburg resident and art major Garrett Watson created the only indoor sculpture, a composition of twigs that is displayed in a skylight of the college's art wing. "Working with raw materials, such as saplings, is different than many of the other things we've done," he said. Just as Thoreau famously adopted a modest lifestyle while living at Walden Pond, Watson followed "a simple idea and design" to create his sculpture.
The MWCC Humanities Project will continue with five additional October events, beginning next week at the Gardner campus. A film screening of "Into the Wild" will take place on Tuesday, Oct. 7 from 12:30 to 2:45 p.m. in room 127. A lecture titled "Thoreau's Relevance for Our Time" will run from 12:30 to 1:30 p.m. in the North Cafeteria.
Further events include a fundraising hike at Wachusett Mountain on Saturday, Oct. 18; a book discussion of "Cabin Fever: A Suburban Father's Search for the Wild" on Tuesday, Oct. 28; and a performance by Thoreau re-enactor Richard Smith on Thursday, Oct. 30.
The MWCC Humanities Project was established through a 2013 challenge grant from the National Endowment for the Humanities. "East Meets West in a Cabin in Concord: Walden and Beyond" will feature a full slate of free events spotlighting various works written or inspired by Thoreau, as well as a campus-wide, interdisciplinary initiative.
For more information and a full list of events, visit https://mwcc.edu/humanitiesproject.
– Cameron Woodcock