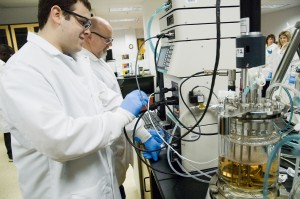 Massachusetts has been awarded a grant from Complete College America (CCA) to aid the state's efforts to increase the number of college students who complete degree and certificate programs in science, technology, engineering and math (STEM) fields.
The grant, announced on Nov. 26 by the U.S. Department of Higher Education, will allow nine Massachusetts public campuses to design academic innovations through CCA's Guided Pathways to Success (GPS) in STEM Careers Initiative. Mount Wachusett Community College is among the recipients and will develop industry field "pathways" utilizing GPS in the areas of health care, advanced manufacturing/ engineering, and biotechnology and life sciences.
The technical assistance grants awarded to Massachusetts, three other states and the District of Columbia are supported by the Leona M. and Harry B. Helmsley Charitable Trust. Other recipients include Bristol, Bunker Hill, Cape Cod, Greenfield, Middlesex and Quinsigamond community colleges.
"We are pleased to be recognized by CCA for our commitment to growing a highly skilled, high wage workforce," said President Daniel M. Asquino. "The technical assistance available through this award will augment our ongoing, cutting-edge STEM initiatives and support programs for students seeking careers in this field, and help us create new opportunities for the future."
The goal of GPS is to help students persist in their studies and then graduate into promising STEM careers. During the two-year period of the grant, Complete College America will provide technical expertise to the schools, to help them develop STEM completion goals and analyze local labor market conditions and workforce needs.
The initiative builds on progress already made through the Vision Project, Massachusetts' strategic agenda for public higher education, and the Transformation Agenda, a multi-year, $20 million dollar project financed by the U.S. Department of Labor to create new community college training programs in the state aimed at unemployed or underemployed adults.
GPS strategies include the use of academic "maps" to guide students from the start to the finish of their academic program, enabling them stay on track and complete their degrees without wasting time and money on courses that don't advance their training in a particular STEM field. CCA will also assist campuses in creating integrated technology platforms to help advisors track student progress and performance.  Massachusetts campuses will work collaboratively to design a new associate's degree in STEM that would give students a solid foundation for transfer into a four-year program, where they could begin STEM coursework at an advanced level of study.
"GPS quite literally offers navigational guidance as we move, through the Vision Project, toward our goal of national leadership among state systems of higher education," said Higher Education Commissioner Richard Freeland. "The nature of our state's economy demands that we ramp up the number of graduates who are prepared to take advantage of opportunities in STEM-related industries."
The grant announcement follows Governor Patrick's November 13 release of "Expanding the Pipeline for All: Massachusetts' Plan for Excellence in STEM Education," a strategic plan that ties economic development to teaching and learning in the STEM fields.