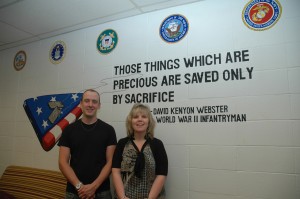 When Liam Malley of Barre learned that the Center of Excellence for Veteran Student Success at MWCC was in need of an artist to create a mural, he jumped at the chance to break out his paints.
As an art student at MWCC, Malley had participated in service learning projects that entailed painting murals in downtown Gardner at two restaurants. The 2010 graduate recently heard from Associate Professor of Art Thomas Matsuda, who asked if he would be interested in creating a military-themed mural.
"It seemed like a really great subject to work with," said Malley, who decided on a theme of sacrifice. The mural depicts a folded flag and dog tags of a fallen soldier, a quote, and the seal for each of the branches of the U.S. Armed Forces. Malley culled through many quotes to find the perfect sentiment for the mural. "Those things which are precious are saved only by sacrifice," a phrase attributed to World War II infantryman David Kenyon Webster.
"We wanted to capture the essence of those men and women who are serving the country in all five branches, and our students represent all five branches," said Kristine Larkin, assistant director of the center. "Our veteran students have made sacrifices not only of their time with their families, but also the lives of friends. This mural serves as a remembrance."
The center, which opened in January 2011, is a hub of activity for nearly 300 veterans and their dependents who are attending MWCC.
MWCC was one of 15 colleges in the country selected to establish a Center of excellence for Veteran Student Success through a Fund for the Improvement of Postsecondary Education (FIPSE) grant from the U.S. Department of Education. Serving as national models, the centers help ease the transition to college life for veterans and their families, as well as provide ongoing support for current active members of the military and their families. The mission of the center is to address the unique academic, financial, physical and social needs of veterans transitioning from soldier to student.
Services and support include: admissions and advising counseling; career services; transfer assistance; veteran benefits and financial aid advising; assistance for students with disabilities; referrals to on-campus and off-campus service providers; a textbook loan program; emergency, scholarship and yellow ribbon funds; an adaptive technology loan program; an orientation course geared toward veterans; study groups; a mentoring program; and peer tutoring. In addition, the new center provides the use of computers and a quiet study area for students.