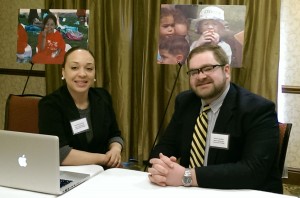 MWCC was featured at the annual Summer Food Service Program kickoff event on Tuesday, Feb. 25 at the Hilton Garden Inn in Devens. More than 100 representatives of summer feeding programs from across the state were in attendance to prepare for implementing the programs at community sites.
The event was organized by Project Bread in partnership with the Massachusetts Department of Elementary and Secondary Education Child Nutrition Program.
Congressman Jim McGovern was the keynote speaker. MWCC Access and Transition Community Partnership Manager Christina Gonzalez and GEAR UP Director Andrew Goodwin presented on the college's Summer Up and Academic and Career Transitions (ACCT) programs.  The MWCC Summer Up program was featured for its unique approach within the state for providing complimentary recreational and educational programming to encourage youth to take advantage of Summer Feeding Programs in their communities.
More than 500 students in Fitchburg, Leominster and Gardner receive summer employment opportunities, a safe place to play, MCAS instruction and recreational opportunities in community centers and parks. In their presentation, Gonzalez and Goodwin stressed the importance of the collective value or multiple community partners in supporting the Summer UP and ACCT.