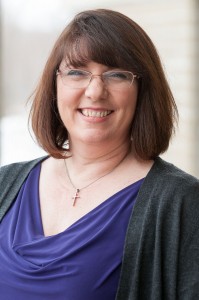 Debra Boucher, MWCC Assistant Dean of Academic Affairs and Student Success, is the recipient of the Massachusetts Women in Public Higher Education's 2015 Phenomenal Woman Award. Boucher was presented with the award during the MWPHE spring conference on April 3 in Sterling.
Boucher joined MWCC in 2008 as a transfer counselor in the college's TRIO Student Support Services/Visions Program, and was subsequently appointed assistant director of enrollment management and advising. In 2012, she was promoted to Director of Student Success, where she became a driving force behind the college's ASPIRE strategy, a five-year initiative funded by a U.S. Department of Education Title III grant to enhance student retention and degree completion goals.
Boucher said she was honored to receive the award, and reflected the recognition back to her colleagues. "It's a privilege to work here and be surrounded by people who are committed to student success."
A wife and mother of three, Boucher decided to enroll in college at age 33 to fulfill a long-held goal. After completing an associate degree in Liberal Arts & Sciences at MWCC, she went on to earn a bachelor's degree in history from Mount Holyoke College and a master's degree in counseling from Fitchburg State University.
"Deb is a talented leader who always puts student success and the welfare of her team ahead of her own personal goals," said colleague Liza Day Smith, Ph.D., MWCC Assistant Director of Advising. "Her ability to anticipate the changes needed to accomplish institutional and state goals around enrollment and retention is unsurpassed. She has built a strong team around her while addressing the needs of the students and the college."