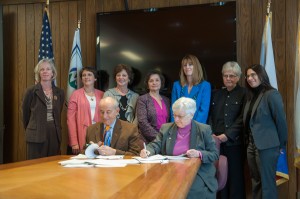 Mount Wachusett Community College and Elms College and have entered into an academic agreement that allows students to earn an Elms College bachelor's degree on the MWCC campus in Gardner. Two programs will begin in August 2013—a bachelor of arts degree with a major in psychology and a bachelor of science degree with a major in nursing.MWCC President Daniel M. Asquino, Ph.D., and Elms College President Mary Reap, IHM, Ph.D., recently signed a memorandum of understanding between the two institutions. Applications are currently being accepted, and classes will begin in August.
Under the new agreement, Elms College will accept an additional 18 credits from MWCC at a community college tuition rate, for a total of up to 78 transfer credits.The psychology degree completion program offers a balance of courses that includes a basic core series followed by concentrations in experimental, clinical/counseling, and developmental psychology. During each of the 10 eight-week sessions, one face-to-face course will be held 4 to 8 p.m. on Thursdays and another course will be offered either as a hybrid or face-to-face. MWCC students completing an associate degree in human services or liberal arts are eligible to transfer into this program.
The RN-BS degree completion program provides a high quality program for registered nurses, which builds upon the skills acquired in an entry level nursing program and prepares graduates who are liberally educated in the arts and sciences and professionally educated in nursing knowledge and evidence-based practice. Classes for this program are scheduled 8:30 a.m. to 12:30 p.m. and 1 to 5 p.m. on Fridays over a two-year period. Some afternoon classes may be offered in the hybrid format.
MWCC and Elms College are actively committed to providing greater educational opportunities and services for students transferring from MWCC to Elms College. MWCC and Elms College mutually recognize each other as quality institutions of higher learning. Each institution is dedicated to serving students from all walks of life in accordance with each college's affirmative action policy. A social work agreement is expected to start in fall 2014.
"These two programs at MWCC will create new opportunities for students to further their educations in psychology or nursing while keeping costs low and convenience at the forefront," said Reap. "We are delighted to open up our classrooms to these hard-working, talented individuals so that they may make a difference in their central Massachusetts communities."
"We are delighted with the new academic pathway that these transfer agreements with Elms College create for many of our graduates," said Asquino. "By completing their associate degree before transferring, our graduates earn credentials beneficial in the workforce, while continuing on for their bachelor's degree."
To learn more about the Elms College off-campus program at MWCC, go to www.elms.edu/mwcc or contact Wanda Banks at banksw@elms.edu or 413-313-4287, or Limari Rivera at l_rivera@mwcc.mass.edu or 978-630-9197.