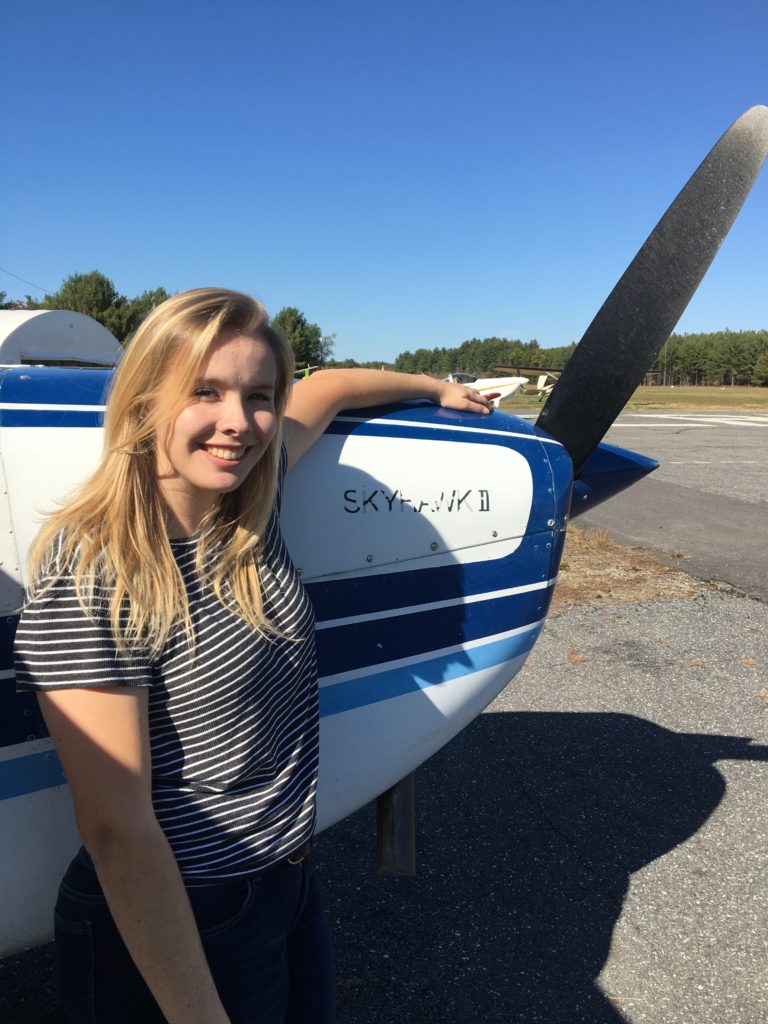 My name is Cassie Tatro and the Mount has been an eye opener for me. Although I'm just like every other hard working student, my "hobby" may surprise you. MWCC allowed me to become who I've always wanted to be, and more — a private pilot at the age of 18.
Aviation as a Hobby
I have been involved in the aviation community since I was 14. Even though I was the only one who had an interest in aviation, my parents fully supported me. I started flying with the Young Eagles program the summer of 2015 at the Minute Man Air Field in Stow, MA. Young Eagles allows 8 to 17 year old's to have a free introductory flight with a pilot who volunteers their plane, time, and fuel. Not only did I fly as a Young Eagle, but I became an active member in the EAA (Experimental Aircraft Association) Chapter 196 that hosted the rallies and started to volunteer for them as well. During my time volunteering, I met the owner of the airport and he presented me with the opportunity to work for him and network with other pilots through Stow Aviation Services, where I still work now.
Aviation as a Job
Stow Aviation Services allows me to be an Operations Coordinator where I:
facilitate the arrival, parking, refueling, and departure of aircraft
assist with the self-fueling service and ensure inventory is current
train other employees to carry out operation office tasks
My other aviation-related jobs include being a dispatcher for Minute Man's flight training facility and an office manager at the Fitchburg Airport in their flight facility. I realized I would be able to combine work with my aviation studies and be immersed with knowledge by surrounding myself with instructors and other student pilots. The income from the jobs paid for the majority of my own training.
Turning Down My Dream University to Start at MWCC
My flight training has been a long road, and a nearly accomplished adventure. I was able to find what I love at a young age, so I knew I wanted to be an aviation major. By December of 2016, I had already been accepted to the only two schools I had applied to my senior year. After thinking over the pros and cons between both schools, I decided to proceed with my acceptance at a State University in Ohio. In May of 2017, my parents and I drove all the way there for orientation, a tour of the flight facility, and the beautiful airport. It quite literally seemed like a dream come true. And the school was so reassuring about helping me get all of my ratings through structured training, from private pilot to instructor rating. However it was too good to be true; financial aid doesn't cover being an aviation major with the extra costs, such as renting planes, instructors, paying for books, the extra ground school classes, etc. Not to mention, I'd hate to owe a "mortgage" amount when I finished up with my bachelors in Aviation Management. Although heart breaking, it was actually a blessing in disguise because I could continue what I've been doing with my flight training at the same time as attending college. So I came to my senses and applied to MWCC, it was the best thing I've ever done.
Being able to go to MWCC lets me continue my flight training with local, small flight schools in the area. I am also currently living at home with my parents (no rent) and driving one of their vehicles (no car payments). The only expenses I have is gas money, sometimes food and my own flying expenses, which is pretty pricey. Having supportive parents really helped me and by going to MWCC, I'm still getting an incredible, yet inexpensive education.
Continuing My Path as an Official Pilot
Through the final stages of my aviation training, I was in the process of completing my freshman year at MWCC. This year, I will earn my associate's in Business Administration and will transfer to earn my bachelor's in Aviation Management. Through networking, tagging along on charter flights and having support from every angle, I was finally able to complete my private pilot certificate on April 11, 2018, one day before my 19th birthday! I intend to get my instrument rating so I can fly in the clouds and after that, my commercial and so on because I plan on having aviation as a career. Going to the Mount has allowed me to become who I want to be and exceed my education in such an encouraging environment with great people.
---

About the Author: Cassie Tatro is a Business Administration student and is on track to graduate in 2019.