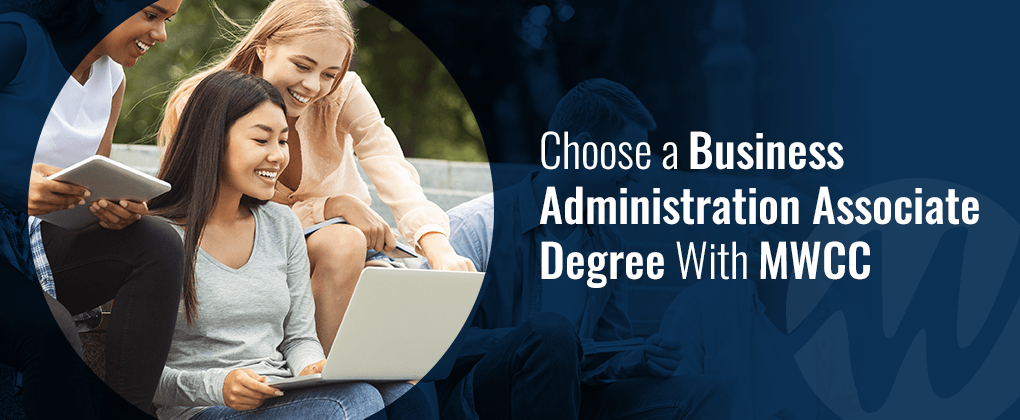 Choose a Business Administration Associate Degree With MWCC
Are you ready to lead? Do you need a business degree to advance at your current job? Do you have what it takes to make tough decisions and solve complex problems? If so, MWCC is the right place to get started. Your associate degree in business administration will give you an advantage as you develop your resume.
Prepare yourself for various jobs with our career degree in business administration and be more competitive in your field. Your transfer degree with MWCC guarantees you admission to Fitchburg State, where you can complete your bachelor's degree.
What Can I Do With an Associate Degree in Business Administration?
MWCC's practical program provides you with the real-world skills and knowledge you can take to any job — and with the valuable business degree that can open doors or kick-start your career advancement. You will learn skills like motivating and communicating with co-workers, evaluating employee performance, analyzing decisions and solving problems.
With a bachelor's of business administration, you can pursue various positions in varying levels of expertise. The U.S. Bureau of Labor Statistics lists business careers in accounting, financial analysis, human resources, budget, event planning, tax collection, market research and more.
Complete Your Business Admin Associate Degree Online or on Campus
We've designed all our business administration programs to allow busy students to complete them entirely online. If you are already in the workforce and looking to advance, our online business associate degree will help you earn your degree at your pace. If you prefer an on-campus education experience, you can achieve your associate in business administration with day or evening classes at our campuses in Gardner or Leominster, Mass.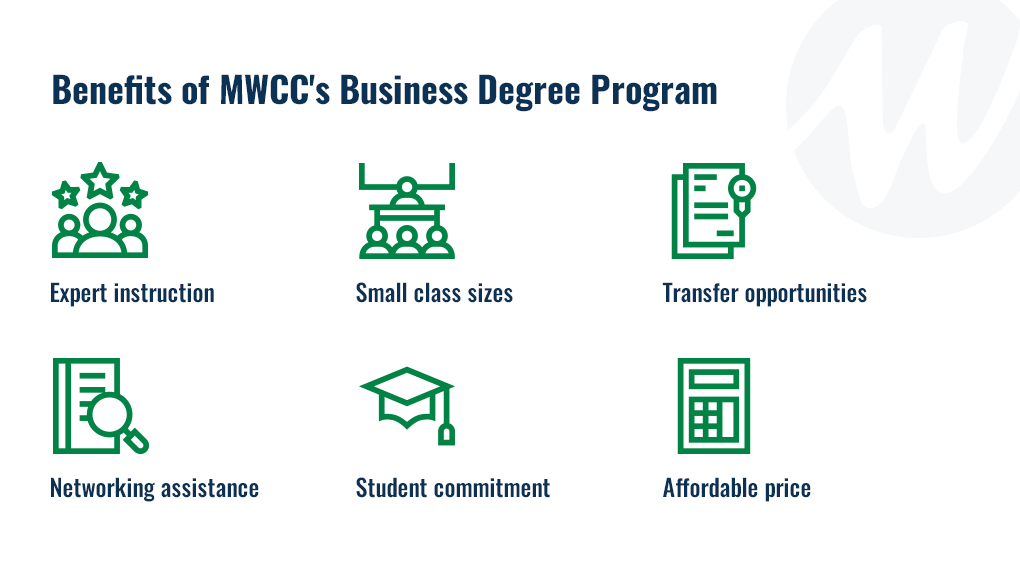 Other Benefits of MWCC's Business Degree Program
Is it worth it to major in business? When you attend MWCC, you gain numerous benefits to help you meet your goals.
Expert instruction: Learn from experienced professors who care about your success. Many of MWCC's faculty members are sought-after consultants, bringing relevant insights into the classroom at a more reasonable cost.
Small class sizes: In-person courses have a 15-to-1 student-to-instructor ratio. Unlike other colleges with massive lecture halls, MWCC does not allow groups of larger than 20 people in the classroom.
Transfer opportunities: MWCC has transfer agreements with many Massachusetts colleges, including guaranteed admission to Fitchburg State. Once you earn your degree, you can easily transfer earned credits toward a bachelor's degree and beyond.
Networking assistance: The newly launched Career Services Center at MWCC offers a wide range of job search resources to help students achieve their goals.
Student commitment: From the moment of your acceptance to MWCC, you will receive personalized academic planning with a counselor dedicated to your success. MWCC offers services to help students struggling with challenges such as mental health, food insecurities and academics.
Affordable price: MWCC provides quality education at a budget-friendly price, with tuition costs significantly lower than the closest four-year college.
Popular Business Programs and Certificates
MWCC's business administration department provides students with the opportunity to earn the following degrees.
Business certificates you can pursue at Mount Wachusett Community College include the following.
Program Courses
The business degree programs at MWCC typically require 61 or 62 credits consisting of courses in accounting, general business, management and marketing. Whether you plan to transfer your earned credits toward a bachelor's program or start pursuing your career immediately after graduating, MWCC's selection of business administration degree courses can help you realize your goals.
Popular courses in accounting, general business, management and marketing include the following:
ACC 101: Principles of Accounting I
ACC 102: Principles of Accounting II
ACC 224: Taxation
ACC 226: Managerial Accounting I
ACC 227: Computerized Accounting
BUS 105: Business Ethics
BUS 201: International Business
BUS 211: Business Law I
BUS 212: Business Law II
MGT 110: Introduction to Business
MGT 210: Principles of Management
MGT 250: Strategic Management
MKT 142: Marketing
Admission Requirements for a Business Administration Degree at MWCC
The business administration programs at MWCC are open admission, so you can complete our free online application at a time that's convenient for you. Apply online in only 15 minutes or deliver a paper application to the admissions office on our Gardner campus.
Admission to WMCC does not require an essay or an SAT score, though students applying straight out of high school or transferring from another college will need to submit transcripts.
After evaluation, you will receive follow-up info from our admissions team on your acceptance and the next steps for enrollment. All students receive personalized planning to help them enroll in the right program and stay on track to meet their goals. To ensure placement in business administration courses that match your academic abilities, we will assess you through various measures after your acceptance.
Are you interested in one of our business administration associate degree programs? Your MWCC adviser will help you map out your business administration courses and guide you throughout your educational journey.
Transfer Business Degree Credits and Get a Bachelor's in Business
MWCC graduates can apply the credits from their associate degree toward a bachelor's degree in business. Our Business Transfer program prepares you to seamlessly transfer to a Massachusetts state university or the University of Massachusetts system through MassTransfer. This program allows you to continue your education while you enhance your resume.
Under the terms of the new MWCC agreement with Fitchburg State University, students in the MWCC business administration degree program will enjoy guaranteed admission to the FSU online and day school bachelor's degree program. MWCC students have access to assigned FSU representatives to help them through the process. The FSU campus also holds special program-related events, which MWCC students are welcome to attend while pursuing their business associate degrees.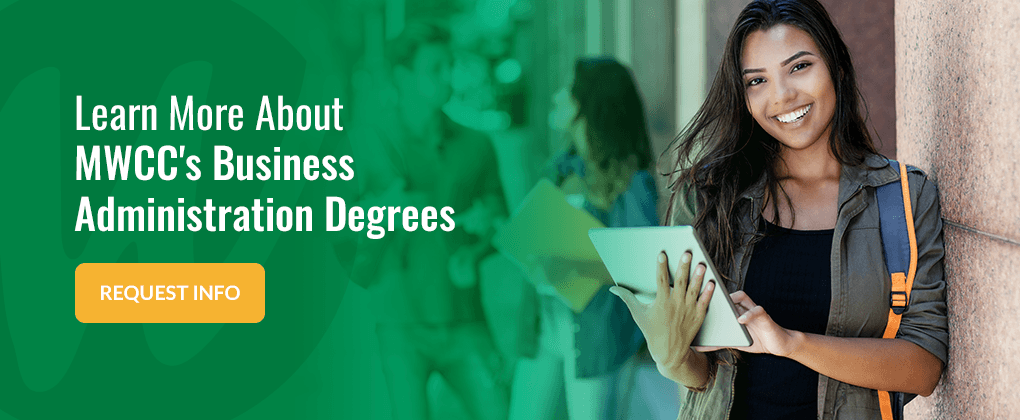 Learn More About MWCC's Business Administration Degrees
Ready to start your business administration career? The admissions representatives at Mount Wachusett Community College would be happy to discuss your goals and find a program that helps you achieve them. You can request more information about our business and business administration degrees today or call us at 978-630-9447.