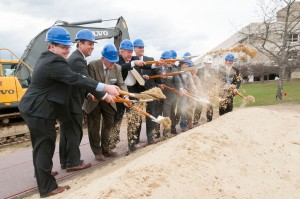 With a nod to its future and that of its students, Mount Wachusett Community College celebrated the start of construction of its eco-friendly science, technology, engineering and math (STEM) addition during a "Building Beyond Tomorrow" ceremony on Earth Day, April 22.
"Today we celebrate not just the assembly of bricks and mortar, but we truly lay a foundation literally and figuratively for the future of our school, our students, alumni, and indeed the future of our greater community," MWCC President Daniel M. Asquino said to the gathering of students, faculty, legislators, community leaders and college supporters.
The new building will replace existing laboratories nearly a half-century old and will enhance the learning environment for all students, particularly those seeking careers in the STEM fields, he said.
"Our STEM students include first-generation college students aspiring to be the first in their families to attain higher education.
Many of the students are participating in the college's STEM Starter Academy, a program funded by the Massachusetts Department of Education, as well as the STEM SET Scholars program, funded through a grant by the National Science Foundation which awards up to $3,300 per year to participants.
"This building represents a tremendous investment by the Commonwealth in the future of our region's students and graduates," he said. "Today's families and students are seeking ways to fund a college education in an era where student loan debt has ballooned and placed a tremendous financial burden on so many graduates.
"Increasingly, more students are recognizing the value of beginning their academic studies at MWCC before transferring for a bachelor's degree and other advanced degrees in the profession of their choice.  By helping them during these foundation years, Mount Wachusett Community College plays a key role in meeting state and national goals of filling a shortage of graduates both at the state and national level to remain competitive globally."
Carol Gladstone, Commissioner of the Division of Capital Asset Management and Maintenance, noted that the project is one of many DCAMMM projects at MWCC in recent years, including the construction of two wind turbines in 2010, the Garrison Center for Early Childhood Education in 2006, the Senator Robert D. Wetmore Center for Innovation in 2004, and the biomass heating system in 2002.
During her first groundbreaking ceremony since being appointed earlier this year, Commissioner Gladstone said the project blends new, state-of-the-art construction with much-needed renovations that tie in with the college's nationally recognized sustainability initiatives. "But what's really most important is the purpose – the students – who are preparing to become nurses, dental hygienists, physical therapist assistants, scientists and other technology specialists to serve the Commonwealth."
Long-serving State Senator Stephen M. Brewer, State Rep. Jonathan Zlotnik and Gardner Mayor Mark Hawke, a member of MWCC's Board of Trustees and an MWCC alumnus, were among the other featured speakers.
The new building is one of "so many wonderful things that have happened at Mount Wachusett Community College," to benefit students, veterans and the region, said Senator Brewer, a key supporter of the new building during his tenure in office.
The $41 million project includes a 44,000 square-foot addition, a new 2,300-square-foot greenhouse and renovations throughout the existing Arthur F. Haley Academic Center. MWCC received $37.9 million in state capital funds for the project, as well as a $500,000 grant from Massachusetts Life Sciences for laboratory equipment.
Designed by Boston-based Architerra, Inc. to meet LEED Gold certification for efficiency and sustainability, the new building will contain energy-efficient features to tie in with the college's commitment to sustainability. Shawmut Design & Construction, also based in Boston, is overseeing the 18-month project as construction manager. Completion is anticipated in fall 2016.
Amenities in the new building will include eight new classrooms and laboratories, four lab prep rooms, 24 new faculty offices, student study space and interior glass walls to highlight STEM student innovation. Renovations to the Haley Academic Center include a new visitor entrance, a multi-purpose room, an academic advising suite, a refurbished student-centered campus hub and increased accessibility to the Raymond M. LaFontaine Fine Arts Center.
From an economic standpoint, this is the largest construction project in North Central Massachusetts, which in itself helps boost the region's economy by providing work for Massachusetts businesses and bringing more traffic to local businesses and service providers.