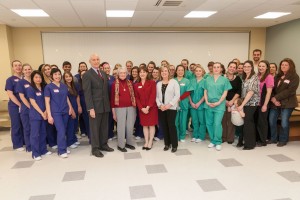 Mount Wachusett Community College administrators, faculty, students and alumni joined representatives from North Central Massachusetts dental and medical community to celebrate the 10th anniversary of the college's dental education programs. The event, held Jan. 22 at the programs' new academic site, the Fitchburg Family Community Health Center, featured a reception, tours of the new facility, student presentations and refreshments.
President Daniel M. Asquino praised the college's dental education programs as a model among the state's community colleges for their clinical partnership with the Community Health Center to serve area residents who otherwise would not have access to dental care.
"There is no program like this, where students get the kind of exposure and experience they get at Mount Wachusett," he said.
The college launched its dental hygiene program in 2005 following an outpouring of generosity from the dental community who saw a healthcare need and partnered with the college to address it, Asquino said. The part-time dental assisting program began in 2012. "It's a model partnership where dentists and the dental community got some grants and we started the program for the community."
To date, the programs have celebrated the academic success of 113 graduates. Alumni representing each graduating class from 2007 to 2014 attended the event, along with current students.
The event also recognized the decade-long leadership of Program Director Anne Malkasian, who is retiring.
"This evening we are celebrating a milestone for the dental education programs at Mount Wachusett Community College," she said.
Malkasian thanked the numerous supporters who helped launch the program and ensure its continued success, including Ellen Daly, former chair of MWCC's Board of Trustees. A retired dental hygienist, Daly was instrumental in starting the program. Daly, who attended the celebration, said she is delighted with the growth and continued success of the dental education programs.
"I may have planted a seed, but the work has been done by the college staff," Daly said.
Professor Cynthia Cadoret, the new chair of the dental education programs department, announced the creation of the Dental Health Alumni Scholarship to benefit future students. Alumni, current students, college faculty and administrators, industry vendors and other supporters have contributed to the new scholarship.