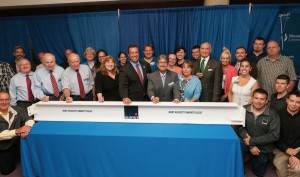 Poised with pens in Mount Wachusett Community College's school colors of blue and green, state elected officials joined college and community leaders, trustees, foundation board members, students and contractors on Tuesday, Aug. 11 to mark a milestone in the construction of MWCC's new 44,000-square-foot science and technology building.
This centuries-old tradition of signing the steel beam that "tops off" a building signifies the completion of the structural phase of a construction project. Dozens packed in to MWCC's North Café to permanently add their signatures to the 10-foot beam, which will be the final and uppermost beam secured to the building frame next week.
"Thank you all for being here on this historic occasion," said President Daniel M. Asquino. "This is another step forward in the modernization of our campus and a brand new STEM building ready for occupancy a year from now."
State Senator Anne Gobi, representing MWCC's Senate delegation, described the new building as an "investment in education and an investment in the future" of the North Central Massachusetts region. "This community college has been a true building block for scores and scores of students," Gobi said.
Retired Senator Stephen M. Brewer, who was instrumental in securing funding for the $41 million project that also includes renovations to the 40-year-old campus, also shared inspiring remarks during the event. Throughout the commonwealth, public schools, colleges and universities are undergoing expansions and renovations to meet the needs of 21st century students, invigorating the campuses and presenting students with greater opportunities to achieve their academic goals, he said.
"Everything that we do should be about the next generations, and that will happen here."
State Representative Stephen DiNatale and State Representative Susannah Whipps Lee, an MWCC alumna, congratulated the college on behalf of the House delegation that represents the college's service region. "These investments, these kinds of endeavors mean jobs. Education means jobs," DiNatale said.
Gardner Mayor Mark Hawke, a member of the college's Board of Trustees and also an alumnus, spoke of the economic significance of the college and the new construction project to the city and region. "We're ecstatic that this is coming to fruition."
Lea Ann Scales, MWCC Vice President of External Affairs, Communications and K-12 Partnerships, served as emcee. When the building opens in 2016, it will include state-of-the-art labs and other amenities to enhance the education of all MWCC students, she said.
The building is designed to meet LEED gold certification to tie in with the college's existing sustainability initiatives. The project is being administered by the Massachusetts Division of Capital Asset Management and Maintenance. Shawmut Design & Construction serves as construction manager.