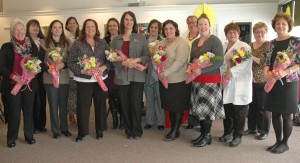 MWCC's celebration of Women's History Month continues with several upcoming events. Earlier this month, the annual Women's HerStory project was unveiled, featuring college faculty and staff who play an important role in the lives of students.
This year, the HerStory project recognized Carrie Arnold, adjunct faculty member, biotechnology; Carol Chodorow, adjunct faculty, math; Michelle Contey, academic and career counselor; Fagan Forhan, director of experiential learning opportunities & civic engagement; Janice Gearan, professor of human services and psychology and department chair; Andrea Gendron paraprofessional tutor; Diane King, coordinator of health services; Kristine Larkin, director of the Center of Excellence for Veteran Student Success; Margaret McNamara, adjunct faculty and professional math tutor; Carla Morrissey, library circulation supervisor; Elena Natalizia, professor of criminal justice; Mary Roth, career development counselor; Karin Sanieski, academic counselor; Susan Taylor, professor of computer information systems; Deborah Tsillas, faculty member, speech; and Rebecca Ufema, adjunct faculty member, music. 
Their photos and stories written by students in Professor Susan Goldstein's Journalism 1 class, are on display on the South Café wall through March 31. The honorees were recognized during a Women's Appreciation Day event on Monday, March 25. During this event, the musical duo "The Billies" returned to the campus to provide entertainment.
Women's History Month events continue on March 28 from 12:30 to 1:30 in the North Café with the presentation, "The Dating Game," with Lindsay Carpenter, supervisor of community education domestic violence services, YWCA of Central Mass. This workshop will help participants identify their own priorities in relationships, how to identify early warning signs that a relationship may become unhealthy or abusive, and what to do if they see these red flags in their own relationship or those of friends and family. 
On April 3, the presentation "Bullying and Cyber Bullying Prevention," will take place at 12:30 p.m. in the North Café. Meghan McCoy, program coordinator for the Massachusetts Aggression Reduction Center and an instructor at Bridgewater State University, will present on her research and work and the work of the MARC program.