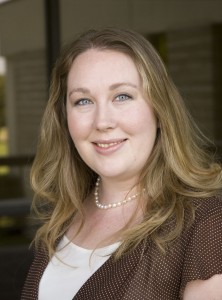 Fagan Forhan, Director of Experiential Learning Opportunities and Civic Engagement at MWCC, has been appointed to the steering committee of The Democracy Commitment, a new national initiative of the American Association of State Colleges and Universities to provide all community college graduates with an education in civic engagement and the democratic practice.
As a member of the steering committee, Forhan will collaborate with leaders in civic engagement from community colleges across the country to support the growth and development at a national level of the integration of democratic practice and civic engagement into the education of every single student who attends a community college.
"Fagan has been an instrumental leader in the area of civic engagement at Mount Wachusett Community College, and we are delighted that she has been invited to bring her expertise and experience to a national level," said President Daniel M. Asquino. "To be selected to serve in this capacity speaks highly of the work she has accomplished with students, faculty and staff members at MWCC, as well as the college's long-standing endeavors to incorporate civic engagement into the academic experience."
"It is truly an honor to be included in this steering committee," Forhan said. "It is incredibly important for our students to understand their role in our community – at a local level and at the global level – as well as how they can influence positive social change to benefit their families and their regions. I believe that it is through this kind of deep integration of knowledge that our students will begin to understand their own capacity to change the trajectories that we are currently on and make this planet a more sustainable and kinder place to live."
The Democracy Commitment is modeled after the American Democracy Project (ADP), a national coalition of public, four-year colleges and universities committed to civic and democratic work, sponsored by the American Association of State Colleges and Universities (AASCU) in partnership with The New York Times. MWCC is an inaugural signatory of The Democracy Commitment.
Forhan has served in a leadership role for MWCC's civic engagement initiatives since joining the college in 2006. She currently serves as director of the college's Center for Civic Learning and Community Engagement, formerly known as the Center for Democracy and Humanity. In this capacity, she provides strategic direction and oversight of implementation for all programs, including AmeriCorps Job Ready and United Way Youth Venture of North Central Massachusetts, as well as providing oversight and program development/structure for internships, service learning and career placement. Forhan assists community-based supervisors in developing meaningful and reciprocal student placements, and works with faculty to integrate service learning and civic engagement projects into curricula that benefit our greater community and provide students with practical experience.
In her capacity as director of the center, Forhan also oversees MWCC's participation in a new initiative funded by the National Endowment for the Humanities and co-sponsored by the Association of American Colleges and Universities and The Democracy Commitment, called "Bridging Cultures to Form a Nation: Difference, Community and Democratic Thinking." MWCC was one of 10 community colleges in eight states selected earlier this year to take the lead in this initiative.
Bridging Cultures was developed as part of AAC&U's ongoing initiative on civic learning and democratic engagement and builds on the recommendations issued in the report, A Crucible Moment: College Learning and Democracy's Future, released in January 2012 at a White House convening. The key recommendation in the report is to make civic learning in college expected rather than optional for all students.