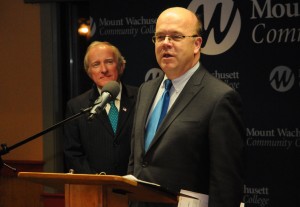 An outpouring of admiration and acclamation for state Senator Stephen M. Brewer and Mount Wachusett Community College student scholars fueled an evening of inspiration and celebration during the MWCC Foundation's annual dinner on April 9.
The event, held at the Wachusett Mountain ski lodge, honored the long-serving legislator as the foundation's 2015 Harold E. Drake Jr. Citizen of the Year.
Congressman Jim McGovern delivered remarks both heartfelt and comical, before announcing that Senator Brewer's 26-years of exemplary leadership in the Legislature has been officially noted in the Congressional Record.
"Senator Brewer is a giant; someone who not only looked out for his constituents and his community, but also for Massachusetts. I can think of no one finer to receive this year's Harold E. Drake Citizen of the Year award for his service to the Commonwealth and to the constituents he represented over nearly three decades of public service," the official record reads, in part. Senator Brewer retired from the Legislature last fall.
"As senator, Steve helped countless people," Congressman McGovern said. "I admire him because of all the great things he's done and because he's never thrown away his conscience." Regarding the senator's popularity, the Congressman quipped, "Have you ever walked in a parade with him? It's like walking with Elvis, everyone wants to meet him."
In addition to celebrating Senator Brewer's legacy, the event acknowledged the academic success and civic engagement of MWCC students, as well as the volunteerism of area middle school and high school students who participate in United Way Youth Venture, a thriving partnership between the college, the United Way of North Central Massachusetts, and the international organization Ashoka.
The audience of 220 college supporters, benefactors, students and community leaders rose to their feet on many occasions throughout the night, beginning with remarks delivered by student speaker Cathy Teague, president of the Student Government Association. She shared how she and her husband, Jason, an Army veteran, rebuilt their troubled marriage after realizing the power of a college education to shape a brighter future for themselves and their children. The Winchendon couple, who divorced and later remarried, credited the support they received at MWCC through various student and veteran support services.
"During the past two years, I have transformed from a scared single mother of three little boys that didn't know where her life was going. I have grown to be a more confident person who has a clear path. Through MWCC, Jason has found one of his true passions, which is helping other veterans" as a mentor and advocate for veteran suicide prevention she said.
"Because of the scholarship support and the positive encouragement I received, I have an amazing story. My once broken family is back together again, and I have grown into a person that I never thought I could be."
An exchange between the couple and Senator Brewer sparked the most poignant moment of the night, when the senator presented Jason Teague with the flag lapel pin he was wearing, along with words of encouragement. In response, Teague asked to approach the microphone, and then presented Senator Brewer the pin he was wearing – the high school graduation pin of his 20-year-old son, who is currently serving in Afghanistan. The men embraced, tearfully, as tears flowed freely throughout the banquet hall.
During his remarks, Senator Brewer lauded President Daniel Asquino for his visionary leadership and the college for its ability to transform lives through education and student-centered service. He spoke of his love for America, his admiration for Harold Drake, and the dedicated spirit of the Youth Venture teens who represent the country's future.
"The promise of our country is to do better for the next generation," he said.
President Asquino described Senator Brewer as a man of many hats and talents, but above all, "a great human being and an example of a truly caring and engaged citizen of our democracy. Today all of our lives have been improved because this year's honoree exhibits the fine characteristics of good citizenship, of sacrifice well beyond self-interest and of volunteerism."
President Asquino recognized several student leaders in attendance for exemplary achievements this spring, including Ms. Teague, who will be MWCC's recipient in May of state Department of Higher Education's 29 Who Shine Award; John Day of Gardner, who was recently named a national Newman Civic Scholar by Campus Compact; Student Trustee Phillip Stan of Gardner, one of 150 students named a national Coca-Cola Scholar this year; newly elected 2015-2016 student Trustee Thomas Berger of Winchendon, a veteran of the U.S. Army; Louis Ayisi of Leominster, who has represented MWCC students as a featured speaker high-level events at the statehouse; and Aaron Trudeau of Rindge, N.H., a Marine veteran who was selected nationally to join President Obama and Vice President Biden at the recent dedication of the Edward M. Kennedy Institute for his essay on community service.
Featured speakers also included State Senator Harriette Chandler, Foundation board Chairman Richard Mohnk, Foundation Executive Director Carla Zottoli, and former MWCC Trustee Jay Davis Drake, who has presented the annual award for the past two decades to community members who exemplify his father's volunteerism and commitment to the North Central Massachusetts region.
"Mount Wachusett Community College," Congressman McGovern remarked, "is a place where incredible things happen and dreams come true."