MWCC's Alpha Beta Gamma Honor Society invites the local community to join them for their annual kids' Character Breakfast event happening this Saturday, March, 30th.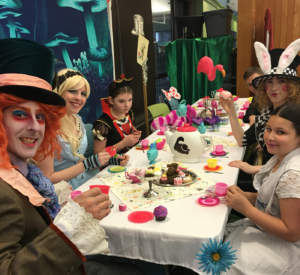 Every year, MWCC hosts a fundraiser to raise awareness and donations for food insecurity on campus and in the community. This family-friendly event is open to the community and offers kids and families a chance to meet their favorite storybook and cartoon characters. Kids are welcome to wear costumes. There will also be raffles and free activities to participate in.
Tickets:
$7–Ages 12+
$5–Ages 2–11
FREE age one and under
Tickets purchased day of event: $10 ages 12+
Tickets can be purchased in advance by emailing Lisa Ferrara-Caron at lferraracaron@mwcc.edu.
Alpha Beta Gamma Honor Society President and MWCC student, Lisa Caron, is helping to plan the event and can speak to the fundraiser's success. "Traditionally, the character breakfast has been an opportunity for students, faculty and staff at MWCC to invite the community families onto campus for a morning of fun and games. Parents can understand that this time of year, kids are going stir crazy! We provide a safe environment for them to get some energy out with games and prizes all while enjoying a delicious breakfast made by our own Green Street Cafe!"
Though a big part of the event's appeal is that it's an exciting morning full of activities and fun, its importance and impact on the school and community goes deeper than a cheerful meet and greet for kids. It also addresses an important societal issue affecting students and families nationwide.
"The school, as well as the community, benefit from the event as proceeds will go to help hunger alleviation efforts by both the CAC (Community Action Committee) in Gardner and the Food for Thought Pantry here on campus," said Caron. "It was amazing to me to read the research about how many of our own students struggle with some form of food insecurity."
Caron is excited and hopeful about this year saying she thinks it will be very successful, as she's already had families asking about the event.
"The amount of smiling faces and the stories that are shared by past attendees is reward enough for hosting the event, but the fact that we are, as of last year's breakfast, helping our fellow students with any food insecurities they may have is cause for this event to keep going!"
The Character Breakfast will take place Saturday, March 30th from 8:30-11:30 am in the South Cafe at Mount Wachusett Community College at 444 Green St. Gardner, MA. 
---
About the Author:
Aisha Schor is a Media Communications major at MWCC. She is a contributing writer for the News Center.