Mount Wachusett Community College students and faculty welcomed Thoreau Society Executive Director Michael Frederick for a Humanities Project lecture on Thoreau's influence on contemporary nonviolent reformers.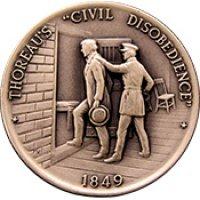 While Thoreau's essay, "Civil Disobedience," and guiding philosophies served as inspiration for Gandhi and Martin Luther King, Jr., Frederick noted fundamental differences between Thoreau and his more passive disciples.
Published posthumously, "Civil Disobedience" was originally titled "Resistance to Civil Government," and Frederick said the original was more consistent with Thoreau's viewpoints.
Thoreau was also "consistent on the use of force" in opposing government and supported abolitionist John Brown, who sought to arm slaves and bring about their violent rebellion, said Frederick.
Finally, Frederick said, "Our concept of civil disobedience [and that of Gandhi and King, Jr.] is one of collective action. Thoreau's was one of individual action."
The final Humanities Project event of 2014 will take place Dec. 4 and feature student presentations and exhibits. For more information about the MWCC Humanities Project and a full schedule of events taking place this spring, visit https://mwcc.edu/humanitiesproject.