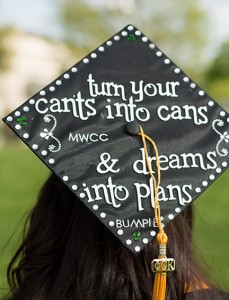 Nationally, adults age 25 and over make up the fastest growing demographic of students enrolling in college, according to the U.S. Department of Education's National Center for Education Statistics. To assist area residents interested in achieving a college degree, Mount Wachusett Community College is offering a free, new program in August at its main campus in Gardner.
MWCC's Adult College Experience (ACE) program will feature a variety of workshops designed to guide adult learners through the application, financial aid and course selection processes and provide information about commonly used technology, managing coursework and balancing school with work and family life. All participants attending the first session will receive a free gift, and participants attending all four workshops will be eligible to win a free, three-credit course.
"Over the past 23 years, I've had several conversations with adults about attending college," said Missi Sargent, Assistant Dean of Academic Affairs at MWCC, and one of coordinators of the new program. "I have heard the anxiety and uncertainty in their voices. Some who haven't been to school since high school worry that it's been too long, and many feel they are just too busy to be able to commit to school or our concerned about the cost. I once felt the same way, too," said Sargent, who overcame those doubts and now holds an associate degree in general studies, and a bachelor's degree and master's degree in adult and higher education administration.
"I am here to say, you CAN do it and it IS worth it. Take it one step at a time, meet one goal at a time and I assure you, you will get there."
MWCC's four-session ACE program, geared toward adult learners age 24 and above, will begin on Tuesday, Aug. 4 from 5:30 to 7:45 p.m. with the workshop, "Adult Roadmap to College." A panel of MWCC alumni who returned to college as adults balancing work, family and studies will share their stories and answer questions. Participants will receive assistance completing their MWCC application, learn how to navigate the Blackboard online learning system and set up computer files for class, and use technology and other tools to make the college journey easier.
"College Survival 101" will take place Tuesday, August 11, from 5:30 to 7:45 p.m. Participants will receive assistance completing their Free Application for Federal Student Aid (FAFSA) form, learn about preparing for the writing portion of the college placement test, and learn about the expectations of college writing classes. Additional topics during this session will focus on overcoming math anxiety, following a course syllabus, and the variety of student learning styles.
The session, "Time to Enroll," will take place Saturday, August 22 from 9 a.m. to noon. Working with an advisor, participants will develop an academic plan, explore financial aid and payment options and enroll in classes.
The series will conclude on Tuesday, Aug. 25 with the session "Ready, Set, Go!" from 5:30 to 7:45 p.m. Newly enrolled students will receive assistance reviewing and understanding the components of their financial aid package, including knowing the difference between loans, grants, scholarships and work study aid. The session will end with a pizza party celebration.
Each year, millions of adult students return to college to earn a degree or academic certificate. According to the National Center for Education Statistics, enrollment of students age 25 and above increased by 42 percent between 2000 and 2010 and is predicted to increase by another 20 percent by 2020. In comparison, enrollment of college students age 24 and under increased by 34 percent between 2000 and 2010, and is expected to increase 11 percent by 2020.
To register for MWCC's free ACE program, contact the admissions office at 978-630-9110 or email admissions@mwcc.edu. Registration can also be completed online at mwcc.edu/build/ace.