From June 1st – June 8th, 2019, nine of our students will be across the globe, making an impact in the world!  The International Service Trip, sponsored by the Office of Student Life and the Brewer Center for Civic Learning and Community Engagement, will be hosted by True Nature Travels.
Grab Your Spot!
There's only one spot left for this extraordinary opportunity so grab it while you can!  This is a once-in-a-lifetime experience and time is ticking!  Fly over to the breathtaking jungles of Central America, gain extreme self-satisfaction through helping others, and enjoy a plethora of fun activities with an amazing team of people!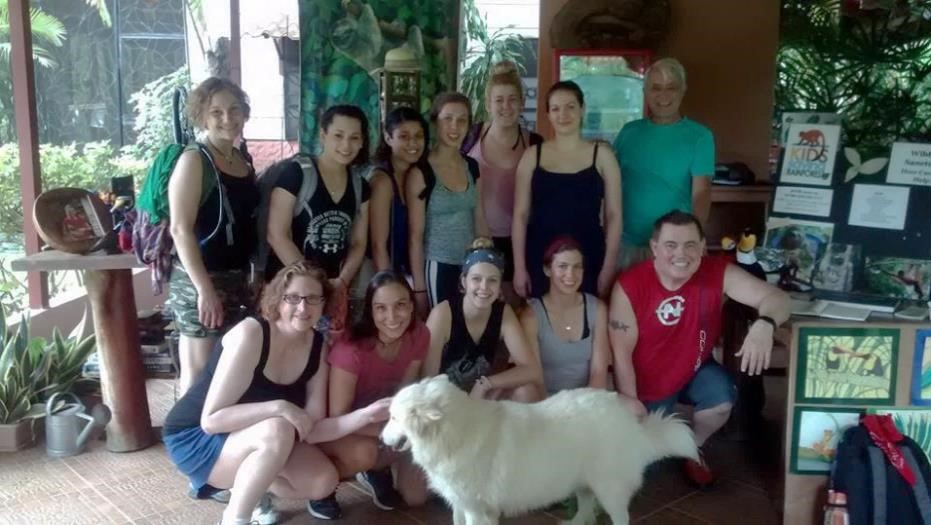 Costa Rica is calling your name!  If you'd like to join the group on their endeavors, contact one of the two chaperones:
Why You Should Volunteer
Many people don't realize that volunteering is a very rewarding experience.  Not only is it proven to make people happier as well as relieve stress, depression, and anxiety, but it also gives people a sense of purpose and self-worth.  Take it from Hannah Shailer, the president of the Cultural Engagement Club:
"I think that everyone should become involved in some form of volunteering. Personally, doing service trips is my favorite way to give back and learn about cultures," said Shailer.
"I think that volunteering can show individuals a purpose that can be hard to find otherwise. For me, encouraging others or helping someone in need gives me a purpose and reason to keep fighting the everyday battles."
The Big Impact
During their stay, participants from the Mount will help out through a number of services, both environmentally-related and animal-related.  They will work within the communities of Costa Rica and also in nature with the wildlife.  In addition, the team will be able to participate in a variety of activities and excursions throughout their stay.  The trip is all around a great opportunity, however, it requires lots of preparation before they can leave.
The Overview of Expenses
Before the participants of the trip can take-off, they first have to raise enough money to pay for the trip.  Looking at the costs and fees, the students must pay a deposit of $350 to confirm their attendance as well as $150 for airfare.  In addition, they must also pay $925 to secure their spot.
As for personal fundraising, each participant must also raise an additional $925 for the trip.  Finally, they should bring any cash they wish to use for personal spending costs such as souvenirs, optional activities, and more.  Altogether, the trip adds up to be about $2,400.  That's not even including vaccinations or medications they may need to receive which, if not covered by insurance, can range from $100-$200!
"Traveling obviously comes with a cost, and we try to make it an affordable and pleasant experience for all students involved by doing fundraisers both as a group and individually," said Shailer.
How You Can Support the Team
Each student and staff member partaking in the trip will be participating in various fundraising events and activities.  With all the costs and fees required for the trip, these guys are gonna need all the support they can get!  As for what we can do, the team would greatly appreciate engagement from their peers as well as faculty and staff members at MWCC.
The fundraising activities such as yard sales, holiday sales, raffles, and other events will be hosted on campus by the service trip members.
These events not only provide a great opportunity to find some incredible things to buy, but it's also a great way to bring the community together and have fun.  Not to mention, the bake sales are TO DIE FOR!!  The smell of those yummy desserts will have people running through the halls, desperate to satisfy their chocolate needs – I know I will be!
Be sure to spread the word to your friends and family and stop by and remind them to bring their appetite, too!  These events are a great way to have fun for people of all ages!  Even better, you can really help the team reach their goals and begin their adventure abroad.
What This Year's Team Can Expect to Gain on the Trip
This trip will be an eye-opening experience for everyone involved.  The participants will have the opportunity to travel, see another part of the world, and make an impact by helping others.  They will get to obtain a new perspective and learn about a new culture while they spend time abroad.
Hannah gave us her thoughts on her outlook of the trip. "From this year's trip, I hope to gain a broader and more diverse perspective about the Costa Rica Culture. I also hope that it's a rewarding experience for not only the participants but the people we are serving as well," she said. "I have done a great deal of traveling to other countries in the last five years and it is always an extremely rewarding experience when you are doing service and learning about life in other countries."
All in all, I think that this opportunity isn't an experience that should be passed up.  It's a one-of-a-kind adventure and has a lot to offer.  Even if you're not too keen on traveling abroad, there are plenty of other opportunities within the United States, and even in your surrounding towns, so go out there and make a difference in the world!
---
About the author:
Alexandria Faneuf '19 is a Liberal Arts major at MWCC. She is a contributing writer for the News Center.