Liberal Arts and Sciences Associate Degree
Mount Wachusett Community College's Liberal Arts and Science associate degree opens the door to endless academic and professional opportunities. Here, you'll gain access to a wide range of course topics and areas for skill development.
The program creates an environment where you are able to choose the path that is a perfect match for your goals and passions, providing you with a strong foundation so you can step confidently into your future.
Why study Liberal Arts at MWCC?
Through the community college Liberal Arts Degree program at MWCC, you can explore a wide range of topics and find your best-fit academic path. This flexible program will broaden your perspective, encompassing topics in English, math, lab sciences, social sciences and world languages. Upon graduation, you will be equipped with problem-solving skills, scientific literacy, an understanding of advanced written texts and knowledge of historical, social and cultural backgrounds that shape society.
The Liberal Arts and Sciences degree culminates with the Liberal Arts Capstone where you will have the opportunity to develop a research-based project, exemplifying your skill set and advanced knowledge. This prepares you with the ability to think strategically and critically, which will help you as you begin your career or transfer into a bachelor's degree program.
Easily Transfer Credits
The Liberal Arts & Sciences associate degree at MWCC offers an affordable way to meet general education requirements before transferring to a four-year college or university for a bachelor's degree program in most academic disciplines, such as biology, English, history or physical science. We provide several transfer options that cater to your specific situation and goals to help you gain confidence in your future and save time and money.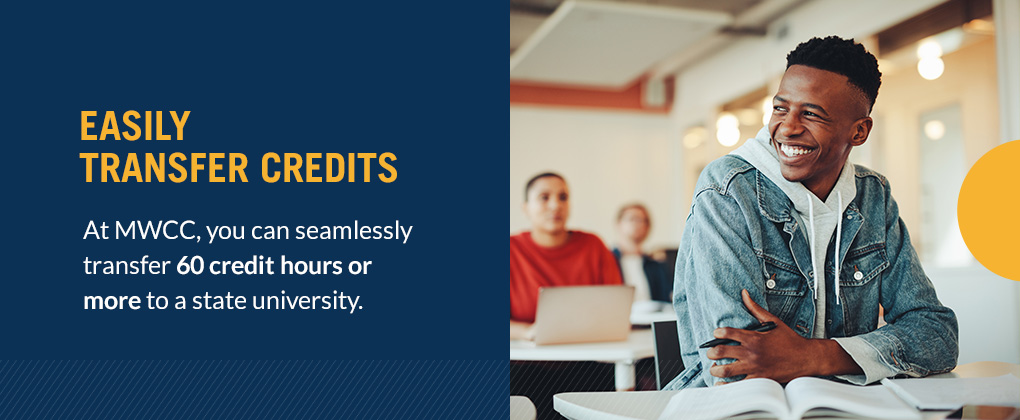 Additionally, the MWCC Liberal Arts and Sciences degree is built on MassTransfer benefits, fostering an easy and seamless transition to a Massachusetts state university or University of Massachusetts institution as a junior. Students who meet specific criteria and graduate from MWCC with a GPA of 2.5 or higher in MassTransfer-eligible programs are guaranteed acceptance to the appropriate university, college, school or major.
What's more, individuals who meet the requirements and graduate from MWCC with a GPA of 3.0 or higher are guaranteed an in-state minimum tuition reduction of 33% for the first year at the state university or University of Massachusetts campus. Additionally, if a student maintains a 3.0 GPA for the first year at the four-year institution, they can receive an in-state tuition reduction for the second year of attendance.
If you are interested in transferring after completing the Liberal Arts and Sciences degree, it is recommended that you meet regularly with your MWCC academic advisor to ensure you meet all requirements for your degree and any entry admission requirements of your desired four-year institution. At MWCC, you can seamlessly transfer 60 credit hours or more to a state university.
Opportunity for Academic Specialization
Pursuing a concentration allows you to focus your degree on a specific topic. That way, you gain in-depth knowledge of your area of interest to apply to your future career. Within the Liberal Arts and Sciences degree at MWCC, you can support the academic and professional path that best fits your interests by choosing from the following tracks to explore areas of interest in greater depth: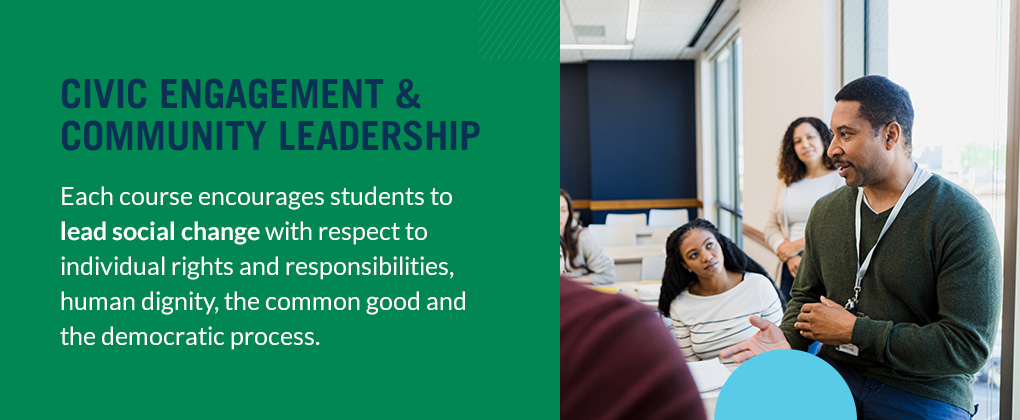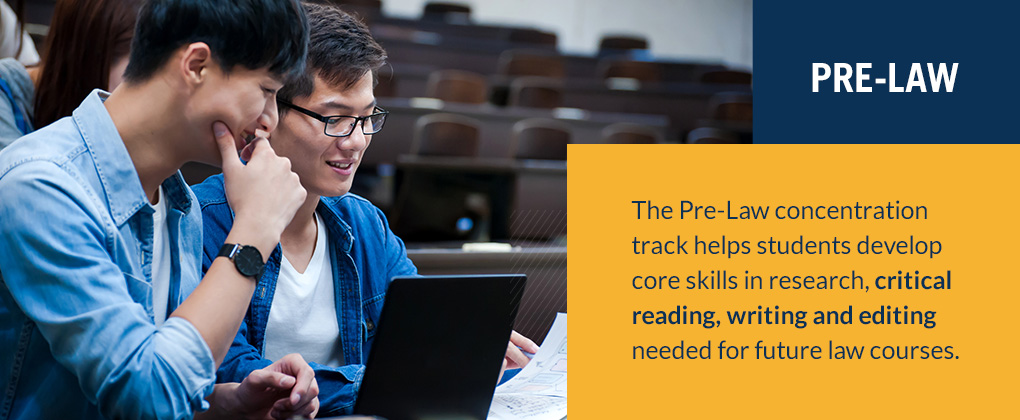 A concentration track allows you to gain greater knowledge and new skill sets, all centered around a specific area of study. Concentration areas can impact your marketability when seeking employment, demonstrating your specific expertise and interests to help you stand out when applying for jobs.

Liberal Arts Associate Degree Jobs
A liberal arts and science degree can provide you with a framework for creativity, communication, problem-solving, critical thinking and other skills that can be applied to a wide range of jobs and career fields.
The following are potential positions for people with liberal arts degrees:
Advertising representative
Lawyer
Retail salespersons
Education administrators
Customer service representatives
Archivist
Artist
Secretaries and administrative assistants
Lawyer
Events director
Financial analyst
Graphic designer
Human resources specialist
Journalist
Marketing specialist
Public relations specialist
Project manager
Research analyst
Social worker
Statistician
Teacher
Translator
Technical writer
Web developer
The U.S. Business Bureau of Labor Statistics reports a median salary of $50,000 for liberal arts associate degree jobs. While liberal arts students tend to earn less upon graduation than technical or vocational students, these salaries only increase later, especially as liberal arts graduates assume leadership positions.
The Benefits of Pursuing a Liberal Arts Education
A liberal arts education produces a well-rounded perspective for students who aspire to improve their minds while training for their next stage of life. Students may study liberal arts because they are interested in a particular subject or desire a more broad-based education that will prepare them for a range of professional opportunities.
Some students choose to obtain a liberal arts and sciences degree because they aren't sure what they want to do after graduation, and they want to leave their options open. Getting this type of education offers students a range of benefits, such as:
Teaching them how to think: Liberal arts focuses on critical approaches to essential subjects and teaches students how to recognize and make arguments that will serve them well in any job.
Improving communication skills: Every job requires effective communication to be successful. Liberal arts classes emphasize the value of such communication, encouraging students to express themselves by facilitating in-class discussions and debates that sharpen these tools.
Gain interpersonal skills: Working together is a foundational tenet for every job. When students enter their careers, they will need to know how to assist others and facilitate positive, meaningful interactions, a valuable skill in many fields. Liberal arts education emphasizes elements such as speech and group projects that teach students the rewards of working together and speaking succinctly.
Irreplaceable value in the job market: Experts also find that liberal arts students will fare well in the coming change of automation since the skills they bring to the workplace cannot be replaced by robots. The consensus is that students with liberal arts and science degrees have the preparation and skills to manage the complex challenges of leadership while surviving dramatic shifts in the job market.
Opportunities for job growth: Liberal arts graduates can expect exponential job growth by developing foundational competencies that give them the tools to succeed beyond their first job.
Why Select MWCC for Your Liberal Arts and Sciences Associate Degree?
When you choose to attend MWCC, you receive a quality education at an affordable price. Going to a four-year college is often expensive, requiring students to take out loans that can take years to pay off. When you invest in an associate degree, however, you won't put yourself in deep debt. Best of all, you still get the exceptional academics you desire. In fact, many of our adjunct professors also teach at nearby four-year colleges.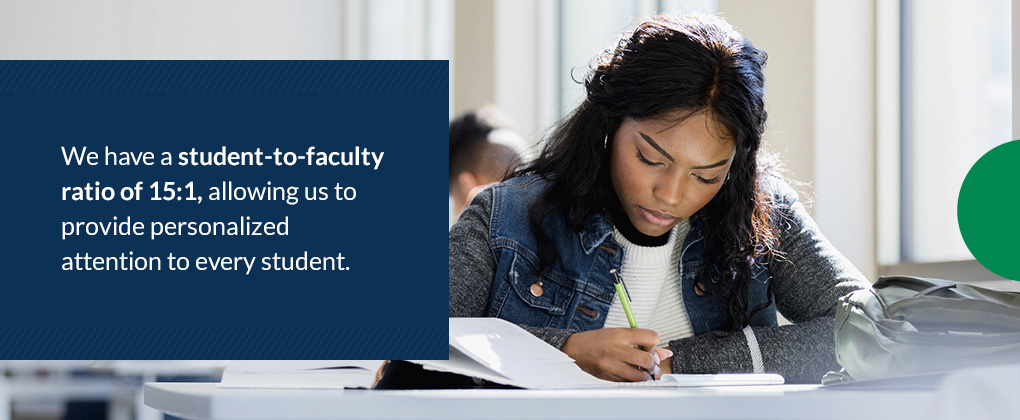 You also enjoy small class sizes at MWCC, comparable to a private university. We have a student-to-faculty ratio of 15:1, allowing us to provide personalized attention to every student. You will find our professors accessible and easy to talk to as well. Other benefits of choosing MWCC include the following:
A new Career Services Center focused on connecting our students with opportunities through career-seeking tools and resources.
A food pantry where students can take home up to 20 items each month, such as canned or dried food, school supplies and microwavable meals.
Child care services for students who are also parents, allowing them to attend class in person.
Veterans services for those who recently served in the military and are now transitioning to college life.
Our flexible learning offerings also include online classes and night courses to accommodate our students' busy schedules. Many learners have family commitments or full-time jobs that make it challenging to squeeze in class time. We offer as many alternatives to traditional daytime classes as possible. With so many advantages to choosing a community college, it just makes more sense.
Find Your Path Through Liberal Arts at MWCC
Gain a Liberal Arts and Sciences degree in Massachusetts at Mount Wachusett Community College. Our transfer degrees are a launching pad for you to explore a wide range of subjects in order to find what is the best fit for your interests and what you want to achieve in your professional career. Its affordable and flexible structure also sets you up for success in transferring to a four-year institution to complete your bachelor's degree.
Ready to take the first step in creating your future? Request more information! You can also apply today for our liberal arts and sciences degree program.