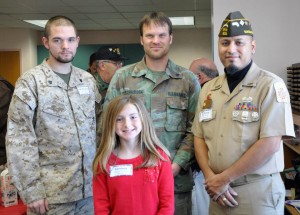 In recognition that "freedom is never free," MWCC student veterans and the college community united to host several events in honor of Veterans Day.
The month-long celebration began on Nov. 1, when members of the student Veterans Group hosted a "Lunch with a Hero" event to enhance communication between military and non-military members of the college community. The following week, club members placed 100 flags at the main entrance to represent MWCC's 100% support for its veterans. MWCC showed its appreciation for students, faculty and staff members who served in the military or continue to serve by hosting a breakfast on Nov. 7, sponsored by MWCC President Daniel M. Asquino, a Navy veteran, with assistance from the Center of Excellence for Veteran Student Success.
Gateway to College Director Deb Bibeau, a 20-year veteran of the U.S. Air Force, was among the members of the college community who attended the veterans' appreciation breakfast. "This is a really great event for veterans to come together and share their common experiences and stories, and it's great that Mount Wachusett has a very robust veterans' support network," she said.
On November 9, a group of MWCC student and staff veterans were invited to speak at a Veterans Day celebration at a middle school in Oakham.
Now, club members and the Center of Excellence for Veteran Student Success are hosting collections to benefit homeless veterans in Massachusetts. The center and club are sponsoring a Red Barrel Media Collection to benefit the Alfred H. Marengo, Jr. Veterans Foundation, Inc., a local nonprofit agency that assists homeless veterans. Used CDs, DVDs and audio books can be placed in the red barrel located at the entrance of the veterans' success center. The foundation has teamed up with Boston Media Store, which refurbishes and resells the donated items. Half the proceeds go to the Alfred H. Marengo Jr. Veterans Foundation, which uses the funds to provide blankets, clothing, personal care items and other necessities to local organizations such as the Montachusett Veterans Outreach Center and Veteran Homestead.
"This project is a great way for the community join in this effort without spending any money," said Lauren Roy, who founded the organization in memory of her father, a Korean War veteran.
In addition to the media drive, the MWCC veterans success center and Veterans Group are assisting the Alfred Marengo Jr. foundation with a clothing drive to benefit MVOC. New or gently used clothing, coats, boots, hats and mittens, as well as financial contributions for new blankets, can be donated at the center through Dec. 11.
The Center of Excellence for Veteran Student Success is making an impact throughout the college community and is continuing to strengthen the college's standing as a top military and veteran-friendly campus in the country, MWCC student veterans said.
"You see all these new faces coming in. It's like being back in a unit. I think that's what it's all about and I think that does transcend to the entire student population," said Marine veteran Bryan Sanderson, a human services major. "Other people approach us and we get to educate them and answer questions. It has brought the school together."