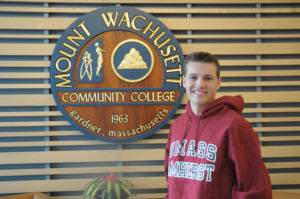 Mount Wachusett Community College Student Kyle Deane is the first student to successfully transfer to UMass Amherst through the Commonwealth Commitment program, a college access and affordability initiative championed by Governor Charlie Baker.
"The hard work and dedication Kyle Deane displayed in completing his associate degree on an accelerated timeline while making use of the Commonwealth Commitment program is inspirational," said MWCC President James Vander Hooven. "I am proud that he started his education here at MWCC and wish him luck as he continues it at UMass Amherst and beyond."
Deane is among the first students in the state to complete an associate degree through the program and utilize its benefits of significant cost savings through transfer. A Commonwealth Commitment cost calculator, designed to illustrate program savings, shows that the average program participant moving from Mount Wachusett Community College to UMass Amherst cuts the total cost of earning a bachelor's from $42,444 to $35,114.
"The Commonwealth Commitment is a demonstration model for how to cut thousands of dollars from the cost of post-secondary degrees," said Carlos E. Santiago, Massachusetts Commissioner of Higher Education. "The truth is that students enrolled in the program are spending less money to earn two degrees than many student pay for a single year in college. Now our job is to find ways for greater numbers of community college students to participate – including those who attend on a part-time basis."
Through a series of AP class credits and dual enrollment classes, Deane was able to complete his associate degree with a concentration in history in a year and a half. He plans to major in history at UMass Amherst and continue his studies after that with the goal of becoming a lawyer.
"We're excited that Kyle Deane has joined the UMass Amherst community this spring, especially as the first of our Commonwealth Commitment students. The Commonwealth Commitment program makes college even more affordable for Massachusetts students, and we're thrilled that Kyle was able to take advantage of the benefits offered through the program. We hope many others will follow his example," said Jim Roche, UMass Amherst's Vice Provost for Enrollment Management.
Deane was among the first students to join the ComCom program after it was announced in 2016. His decision to enter the program was because of the clear path to an affordable degree it offered.
"A huge part of it for me was the tuition break… but also the expectations, like the GPA, were just another driving factor," said Deane. "It was almost like a challenge – a personal challenge to adhere to the guidelines and in that same vein keep your eye on the prize and work towards a dream you have."
ComCom allows students from Massachusetts to significantly lower the cost of a Bachelor's Degree by beginning at a community college and transferring to a four-year campus. When students begin at one of the state's 15 community colleges and adhere to certain criteria such as finishing their associate degree within 2.5 years and maintaining a cumulative 3.0 GPA, the students receive a number of benefits. Among these are freezing tuition and fees for four years and a 10 percent rebate of tuition and mandatory fees at the end of every successfully completed semester.
From Deane's perspective, ComCom is for people who are motivated and will push themselves. For those students, the program provides additional motivation to maintain their grades and push through to their transfer school, he said.
"If you're already planning on transferring to another school why wouldn't you take advantage of it? It's something that's already there," said Deane. "There's really nothing to lose. It's really a no-brainer to take advantage of the program."
More information on Commonwealth Commitment is available at mass.edu/masstransfer/macomcom.