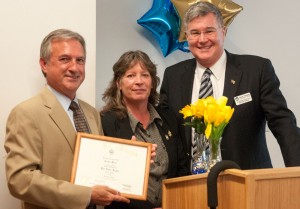 This academic year, more than 250 MWCC students were inducted into the Phi Theta Kappa and Alpha Beta Gamma honor societies.
During the fall and spring semesters, 230 students were inducted into the MWCC's Phi Delta Chapter of the Phi Theta Kappa international honor society. To celebrate this achievement, the chapter held an induction ceremony this spring attended by dozens of students, chapter officers and college administrators and faculty.
President Daniel M. Asquino and the chapter's co-advisors, Professor Michael T. Greenwood, Fagan Forhan, director of Experiential Learning Opportunities and Civic Engagement, and instructor and advisor Robert Mayer, congratulated the students on their achievement. Guest speaker Dave Baer, vice president of marketing for SimplexGrinnell, emphasized the importance of education, goal setting and seeking mentors as the students embark on new careers or advance in existing ones.
"Education is beneficial in so many aspects of life and is the only possession that no one can take away from you. It opens the window of opportunity," Baer said.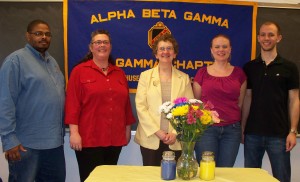 In addition, 24 students were inducted this spring into the Alpha Beta Gamma National Business Honor Society for community, technical and junior college students.  The three-fold purpose of the society is to recognize and encourage scholarship, to provide for leadership training and development and to foster cooperation among the men and women who are advancing their professional careers in business.
"This has been an outstanding year of achievement for this group," said Professor Linda Bolduc, the honor society's advisor. "They have assisted in a local blood drive, spent countless hours raising funds for the House of Peace and Education, Inc., the ALS Association, the Girl Scouts of America, National Education for Assistance Dog Services (NEADS) and the American Cancer Society, and also donated to the Student Government Association's Thanksgiving food basket drive."