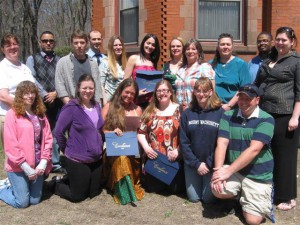 MWCC students enrolled in a range of academic programs and involved in numerous activities have been selected as national outstanding campus leaders and will be included in the 2013 edition of Who's Who Among Students in American Colleges and Universities.
The 49 students were selected based on their academic achievement, service to the community, leadership in extracurricular activities and the potential for continued success. They join an elite group of students from more than 1,000 higher education institutions in the United State and several other countries. The tradition of recognizing noteworthy college students in a Who's Who biographical volume began in 1934.
The honorees were among the student leaders recognized by the office of Student Life during a reception held April 25 at the Gardner Museum.
Students named this year include: Lourdes Abreau, Yajaira Aldrich, Carol Arsenault, Kelli Bator, Sheila Beane, Rya Bennett, Marissa Blake, Stevie Burwell, Abigail Catagnaro, Aaron Chatigny, Ronda Christie, Andrew Constant, Tiffany Dilling, Christine Eck, Cathy Gagnon, Ben Gawlik, Raymond Greeno, Samantha Hutchins, Melanie Jones, Rachel Kalagher, Naomi Kiarie, Kristi Laraba, Tiffianie LeBlanc, Caleb S. Matson, Kathleen Matson, Rosemary Mruk, Schuyler Nelson, Matthew Niles, Katie O'Malley, Timothy Osterfield, Yamila Pastorino, Linda Patterson, Seth Pease, Nicole Pelletier, Cristina Pena-Bautista, Jennifer Potvin, Ericka Pultorak, Elizabeth Marie Reiser, Megan Reiser, Jacqueline Richard, Nicole Riel, William Rivera, Yeirinette Rodriguez, Yendy Rodriguez, Bryan Sanderson, Christina L. Wiggins, Peggy Williams, Bridgette Woodcock.