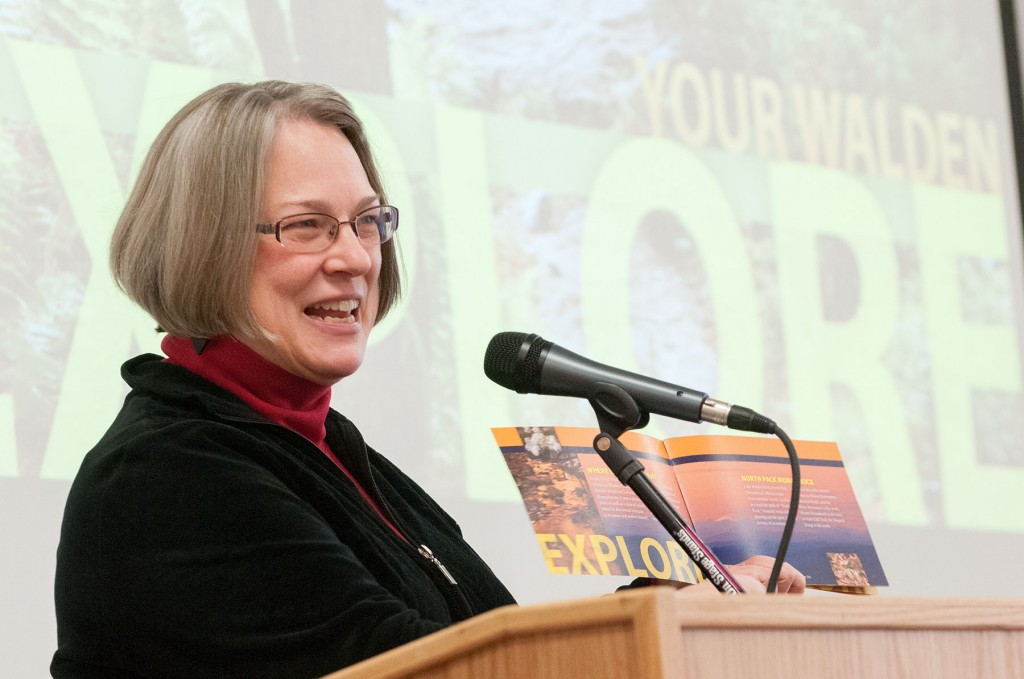 Wrapping up a successful first semester of "East Meets West in a Cabin in Concord," students showcased Thoreau-themed projects during a Dec. 4 exhibit. Funded through a challenge grant from the National Endowment for the Humanities, the MWCC Humanities Project's first-year theme is encouraging students to consider the lasting relevance and modern application of Thoreau's philosophies.
"This is the best event of all and the real reason why we're doing what we're doing," said English Professor and Humanities Project Coordinator Michelle Valois, referring to the presentations and exhibit as singular focus on student outcomes.
MWCC students John Alden and Susan Shute each selected the location that represents to them what Walden Pond meant to Thoreau. Alden read an essay titled "My Walden," an account of his varied experiences at Fitchburg's Coggshall Park. Shute displayed a brochure of pictures she took at North Pack Monadnock in Greenfield, NH.
Michael Niall read a comparative essay, "The Hermitage and the Cathedral, or Just the Everlasting Water," on Thoreau and E.B. White's individual relationships with nature, as described in "Walden" and "Once More to the Lake" respectively. Valois described Niall's essay as "a healthy mixture of analytical and creative learning outcomes," which exemplifies a community-college education.
Bethany Proctor and Samantha Rutkowski narrated a slideshow of Thoreau-inspired student sculptures, which were created using natural materials and displayed in the exterior and interior of MWCC.
Media Arts & Technology student Jack Dawson discussed "Opportunity," an aptly titled picture taken on the road leading to MWCC. The picture reflects the inspirational nature of several Thoreau passages, as well as Dawson's enthusiasm for his post-MWCC career.
East Meets West will continue during the spring semester with a Feb. 11 book discussion of "Being Henry David" at the MWCC Commons; a March 5 book discussion of "The Transcendental Murder" at Leominster Public Library; a March 26 book discussion of "American Primitive" at Fitchburg Public Library; and an April 15 poetry reading by Gail Thomas, author of "No Simple Wilderness: An Elegy for Swift River Valley," at Athol Public Library. All spring events will take place from 6:30 to 8 p.m.
This fall, the campus community also chose its second-year theme, "Myth, Monsters and Modern Science: Frankenstein's Legacy," based on Mary Shelley's classic. The 1818 novel will promote discussion on the societal and personal effects of technological advancements, the potential pitfalls of these innovations, and our collective attitude toward difference.