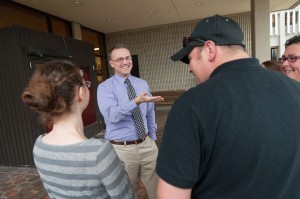 Jason Zelesky has spent the past two decades helping students achieve academic, professional and personal success at colleges and universities in Massachusetts, Florida and Vermont. Recently appointed dean of students at Mount Wachusett Community College, Zelesky is elated to be working in a field he finds inspiring, in the community he calls home.
Raised by a single mother and the first in his family to attend college, Zelesky knows first-hand what it takes to overcome barriers to reach one's goals. And, through his experience and leadership as a college administrator and mentor, he is well aware of the myriad societal and health issues that can impede or derail a student's aspirations, as well as the steps and strategies students can implement to navigate around or through such challenges.
"It's inspiring and humbling to work in an environment that is student-centered and student-focused," said Zelesky, who lives in Gardner with his wife, Alyssa, a Templeton native, and their three children.
"I'm a first-generation college student myself, so working at a college that values access, excellence and success, and helps students aspire to achieve their goals, is a perfect fit. That's exactly what higher education should be about, especially when you do that in a way that is affordable and flexible and meaningful for students."
Working with MWCC's student services team, Zelesky will oversee the college's counseling services, TRIO programs, student life, disability services, and health services departments, have primary responsibility for the administration of the student code of conduct, and serve as student grievance officer.
"We are thrilled to have Jason join us. He brings a strong track record of experience in many student affairs areas, as well as a clear understanding of student-related issues facing colleges today," said President Daniel M. Asquino.
Most recently, Zelesky served for 13 years as associate dean of students and wellness outreach coordinator at Clark University. He previously served as assistant coordinator of prevention, outreach and education at the University of Vermont in Burlington, and as director of residence life at Saint Leo University in Saint Leo, Florida.
"In addition to his academic and career background, Jason has already demonstrated his knowledge of student development and the role that the student services division plays in the educational mission of the community college," said Executive Vice President Ann McDonald. "We are pleased to have him on our student services team."
Though Zelesky initially aspired to become an English professor, his early work in student services led him to redirect his career path. He began his career in higher education as a junior at UMass Dartmouth, where he served as a residence hall director supervising eight resident assistants in a dormitory of 400 students. He served as director of residence life at Saint Leo University in Saint Leo, Fla., for two years, before becoming assistant coordinator of prevention, outreach and education in the Center for Health and Wellbeing at the University of Vermont.
In 2001, he was appointed associate dean of students and wellness outreach coordinator at Clark University in Worcester, where he oversaw residential life and housing for a population of 1,800 undergraduate students, 90 graduate students and a staff of 60. At Clark, he also collaborated with others to provide campus-wide programming, advising and peer education in all areas of health education and wellness, specifically drug and alcohol education.
A native of Worcester and a former resident of Paxton, Zelesky grew up in a home of strong women that included his mother, grandmother and sister. It was a nurturing, feminist environment that instilled a keen awareness of women's issues and a desire to serve as a positive role model for students and men.
His commitment to the colleges and communities he has lived and worked in has resulted in awards that provide a glimpse into his personality, work ethic, and outlook on life, such as Administrator of the Year, Advisor of the Year and Human of the Year at Clark, and the Great Guy Award from Daybreak and the YWCA for his work to end violence toward women.
"I wasn't looking for a job. I was at Clark for a long time. But when this position became available, it offered the opportunity to work at a place that I believe in the community that I call home. Here, everybody knows why they're doing what they're doing, and that's contagious. That's a fun environment to be working in."
MWCC's commitment to civic engagement under President Asquino's leadership and the college's culture of community service also struck a chord, said Zelesky, who coaches Little League in Gardner and serves on the board of corporators for the American Red Cross of Central Massachusetts. "I believe in that civic connection. Every day, I see and hear our students and colleagues asking 'who and how can I help?' It's a very relational place."
He earned a Master's degree in Higher Education and Student Affairs Administration from the University of Vermont, a bachelor's degree in American Literature from the UMass Dartmouth, and completed additional graduate coursework in American Literature at the University of South Florida.
"The work that I love to do is help young people find meaning and purpose in their lives. Young people today are even more challenged than ever to determine why they are going to college, what they want to do for a career and how to succeed, but these questions aren't always openly talked about in many environments. That's why I'm so excited to be at a community college where these questions are asked and discussed on a regular basis."
"I'm a mission-driven professional who needs to work at a place that is doing good work. I'm looking forward to carrying out Mount Wachusett's mission to serve our students and our communities. For me, it's a dream to work in the community I live in."