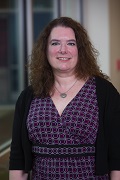 Mount Wachusett Community College is pleased to welcome Tara Novak as the new Chair and Program Director of the Veterinary Technology Associate Degree Program.
Novak joins MWCC after ten years with Becker College in Leicester, Mass where she was most recently the Director of Veterinary Technology as well as clinical instructor and certified veterinary technician. She brings extensive veterinary and laboratory skills and experience to the MWCC program.
As Director of Veterinary Technology at MWCC, she is responsible for all aspects of accreditation by the American Veterinary Medical Association (AVMA) Committee on Veterinary Technician Education and Activities (CVTEA) and the adherence of the curriculum to AVMA/CVTEA requirements.
Novak holds a Bachelors in Veterinary Science from Becker College and Laboratory Animal Technologist (LATG) certification from the American Association for Laboratory Animal Science (AALAS), and Certified Veterinary Technician (CVT) certification from the Massachusetts Veterinary Technician Association (MVTA).
The Veterinary Technology program at MWCC was launched in 2017 thanks to a grant from the Commonwealth of Massachusetts Workforce Skills Cabinet and received accreditation by the AVMA/CVTEA in September 2019. Graduates of the program are eligible to sit for the Veterinary Technician National Exam (VTNE).  MWCC is one of only five Massachusetts colleges to hold CVTEA accreditation.