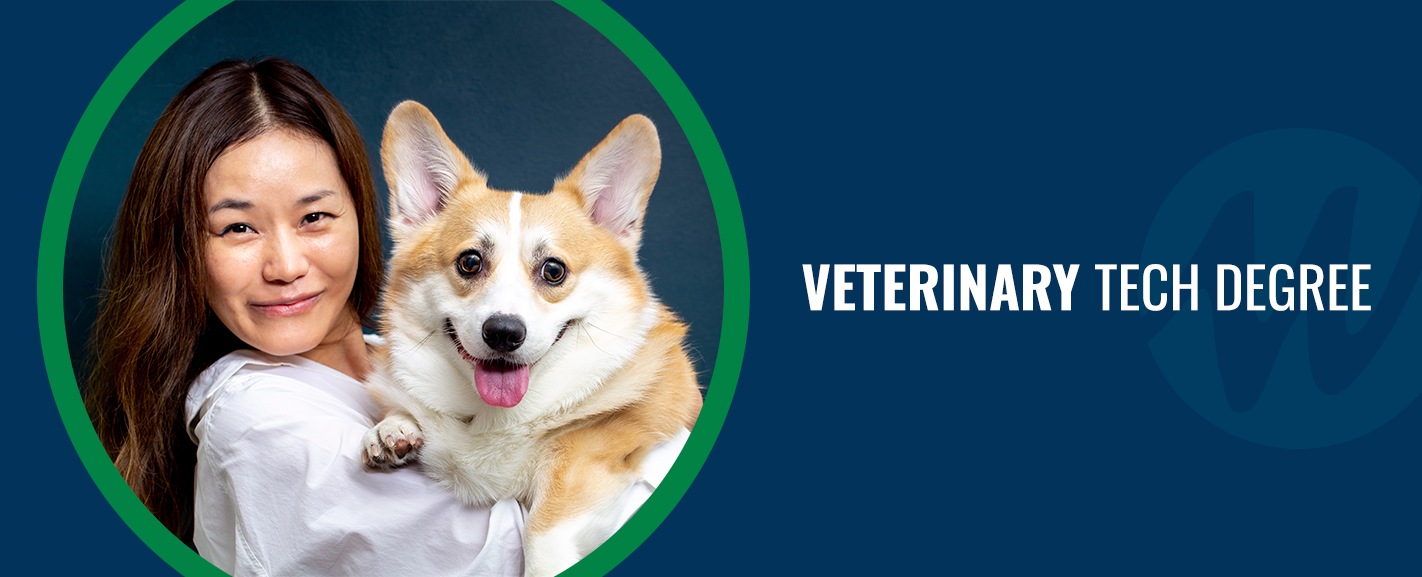 Becoming a veterinary technician can be a gratifying career path that aligns you with your passion. You can work with animals daily to make sure they're happy, healthy and able to lead fulfilling lives.
Veterinary Technician: A Career for Animal Lovers
If you have some of these qualities, you could be a great fit as a veterinary technician:
Excellent communication skills: Veterinary technicians communicate with many people while they work, including staff and pet owners. Veterinary technicians should also be more inclined to nonverbal cues and subtle movements that signal an animal's predicament.
Compassion: Kindness and a sense of calm are excellent traits to have as a veterinary technician. Sometimes you may be helping assist with a sick or injured animal, and you must have empathy to solve an issue effectively.
Organization: Technicians handle medical supplies, keep records and distribute medication to various animals. In this kind of environment, it helps to be detail-oriented and organized. If you work in an emergency setting, the ability to be organized is very beneficial and you will be more prepared for the fast-paced environment.
What Does a Veterinary Technician Do?
As a veterinary technician, you will have an essential role in the health and well-being of all kinds of animals. Vet techs aid veterinarians in an animal clinic with various tasks, such as:
Performing medical tests used in the treatment and diagnosis of animal diseases.
Preparing vaccines.
Collecting blood and tissue samples.
Executing laboratory tests, such as urinalyses and blood counts.
Cleaning and sterilizing instruments and materials.
Assisting veterinarian during surgery.
A veterinarian technician differs from a veterinarian technologist in that technicians often work in a private practice under the supervision of a licensed veterinarian. In contrast, a technologist will probably work in more research-related jobs. Though the two positions are different, they do have various overlapping qualities.
Are Jobs in Veterinary Sciences Growing?
The career outlook for veterinary technicians and technologists is bright, with an estimated 15% growth rate from 2020 to 2030, quicker than the average for all other occupations. Additionally, more than 10,000 new vet technician and technologist jobs are projected to open every year. If you're a prospective student looking to get a degree in the veterinary sciences, this is a great sign and tangible evidence of a valuable career path.
As more and more people are adding pets to their households, the demand for vet technicians will only continue to increase. Many people will be bringing their pets to vet techs for care, vaccinations and medicine.
How Much Do Vet Techs Make?
As of May 2020, the median annual pay for a veterinary technician was $36,260, with the lowest 10% earning less than $25,520 and the highest 10% earning more than $54,410. Veterinary technicians working in research roles at colleges and universities tend to make more than those in veterinary services or social advocacy groups.
What Can I Do With a Veterinary Technology Degree?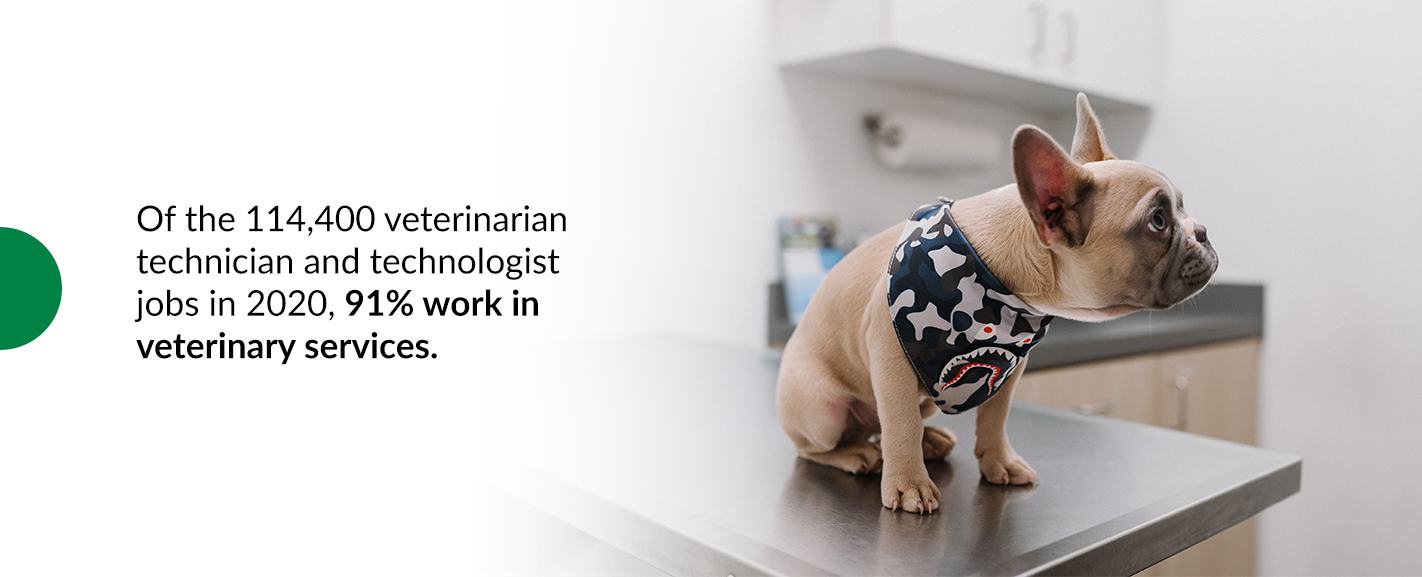 Vet techs work in laboratories, animal hospitals and private clinics. Of the 114,400 veterinarian technician and technologist jobs in 2020, 91% work in veterinary services.
If you are involved with a research job, you could be working with scientists to make sure animals are being treated humanely and that all experiments are done with animal safety in mind.
Veterinary technicians can target disciplines like dentistry, emergency care and anesthesia. You could even open up your own practice and work independently, choosing your clients and building your own business as a veterinarian technician.
What's the Difference Between Vet Tech and Vet Assistants?
Similar to the human healthcare world, a veterinary assistant is like a certified nurse's assistant. The veterinary technician is akin to a registered nurse for pets. The veterinary technician degree and certification testing eligibility are only available at the college level. Students who have graduated from a vocation program for veterinary assistants can start the veterinary technician porgram with a head start.
If you're interested in becoming a vet tech but aren't sure you have enough time, you could be wondering: how long does it take to become a veterinary technician?
What Kind of Degree Does a Vet Tech Need?
Veterinary technicians will need a two-year associate degree from an accredited American Veterinary Medical Association (AVMA) institution.
It can be challenging to find comprehensive, engaging veterinary technician programs that aren't overly expensive. You may be looking for flexibility in your schedule and want to target an online veterinary technician degree program. These programs could allow you to take steps towards a veterinary tech degree online from the comfort of your own home.
The Mount Wachusett Community College (MWCC) veterinary technician program is a competitive alternative to the two-year programs offered at other colleges. The program is accredited by the AVMA and enables students to sit for the national exam.
Some colleges with vet tech programs are expensive. With full-time tuition at private colleges costing around $18,000 per semester, the Mount is the clear economical choice.
Hands-On Vet Tech Training at MWCC
Within the program, our vet tech students will complete two 120 hour internship rotations, helping real animals in an off-site facility, working with:
Farm animals
Exotic species
Emergency and specialty cases
Aquatic medicine
Wildlife
For just nine hours a week during your internship, under the supervision of a certified veterinary technician, you will receive real-world experience helping animals to put your skills and knowledge into action. This hands-on program is an excellent program for any future vet tech, as it gives you a wide range of animals to work with firsthand. As technicians, you will be working with various species of animals, so having this experience is vital for your career preparation.
Learn How to Give the Best Veterinary Care
To become a trusted, esteemed veterinarian technician, you should have a wide range of knowledge on animal care, behavior and sciences. The program at MWCC recognizes a well-rounded veterinarian should be given a comprehensive set of classes to set them up for success.
The MWCC Vet Tech program will include classes in:
Animal diseases
Veterinary radiology
Anatomy & physiology of domestic animals
Domestic animal behavior
Veterinary clinical nursing skills
Domestic animal nutrition & health
Farm animal medicine
Find Out More at MWCC
Are you a high school student interested in Veterinary Technology? Get a head start on our program by enrolling as a Dual Enrollment student in your senior year of high school.
Our Veterinary Technology associate degree program is an affordable way to learn all the essential skills you will need to care for animals and receive hands-on training working with real animals. Please note this is a selective program and requiresadditional application components.
Ignite your passion for animals and launch your exciting career helping animals of all kinds with an associate degree in Veterinary Technology from MWCC. Apply today!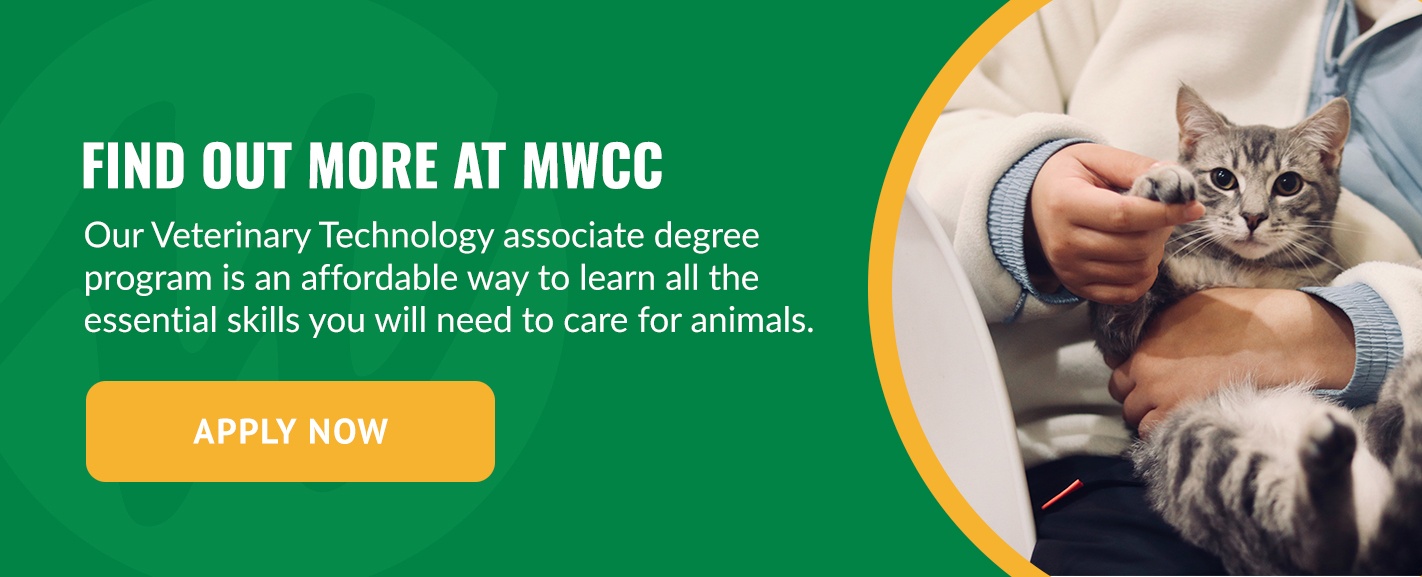 Veterinary Technician National Exam (VTNE) Scores
July 1, 2020 – June 30, 2023
Number of first-time candidates that have taken the VTNE: 25
Three-year VTNE pass percentage: 50%