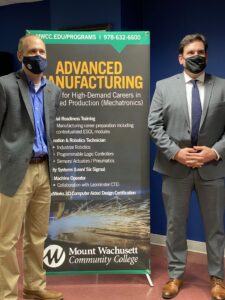 Members of the North Central Massachusetts legislative delegation visited the Devens campus of Mount Wachusett Community College for demonstrations and discussion to kick off Manufacturing Month on Monday, October 4 and to recognize Senator John Cronin and the delegation for support of advanced manufacturing efforts at Mount Wachusett Community College. This investment will help to create more career pathways in this critical sector of the North Central Massachusetts economy.
"The training your support enables us to provide is highly technical, highly skilled, and absolutely necessary," President James Vander Hooven told the delegation. "Thank you all for being here, and in particular thank you Senator Cronin for your support of our programs."
Demonstrations included an overview of the CNC Machining Collaboration with the Leominster Center for Technical Education Innovation from Machine Technology Instructor Steve McNamara, an introduction to the Quality Training and Remote Learning with ToolingU / SolidWorks programs from MWCC Instructor of Advanced Manufacturing Farhana Proma, and Automation and Robotics Instructor Jenn Stephens demonstrated the Automation Cell and Fanuc Robotics training.
"We need partners like the Mount to continue to be able to offer these programs and will do whatever we can to help support them," said Tina Boyer, Bio-Techne Human Resources Manager. "Thanks to the Workforce Training grant, we were able to deliver 1900 hours of training during the pandemic. Our partners at the Mount made sure we were able to utilize every dime of our grant."
"Having Mount Wachusett as our training partner has enabled us to grow our people into our next leaders," states Paula Butler, Senior Human Resources Generalist at Jabil. "We will soon have graduated 64 employees from this program, and 50% of them have gone on to earn promotions since completing training."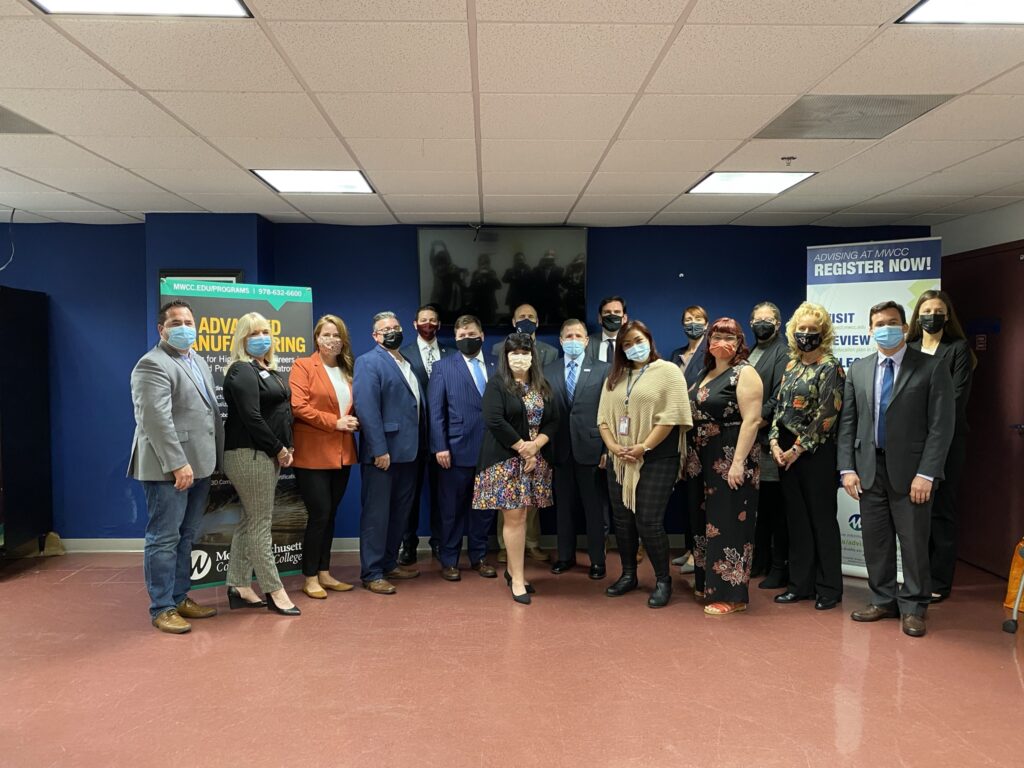 "I started at Jabil as an assembler and have moved up to senior production supervisor thanks to this training," shared Fanta Soundara, Senior Production Supervisor at Jabil. "The instructors have been terrific. The classes have helped with critical thinking, delegation, time management and so much more. I have been able to grow in my career."
"Today is about affirming a shared vision to confront a very real challenge our region faces," Senator John Cronin noted in remarks following the demonstrations. "There are staffing shortages everywhere we look, especially in manufacturing. We have a remarkable legacy in manufacturing, it has been the lifeblood and economic engine for this region for centuries."
"If we do not provide the skilled workforce needed in our region to sustain and grow these industries, the businesses will go somewhere else," Senator Cronin continued. "We have a shared responsibility and challenge to make collaboration and coordination a competitive advantage. If we can feed our industry and help them grow, we are going to expand and sustain the middle class in North Central Mass."
In addition to legislators, the presidents of the North Central Massachusetts Chamber of Commerce, the Greater Gardner Chamber of Commerce, and Nashoba Valley Chamber of Commerce as well as representatives from MassHire North Central, and Mass Development.
Click below to view the speaking portion of the event.