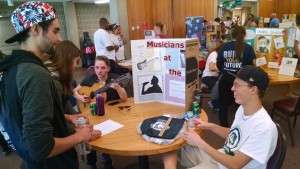 More than 1,000 new Mount Wachusett Community College students earned accolades for deciding to invest in their future through higher education, during a series of orientation sessions hosted by the college. Sessions were offered for day and evening students, veterans, dual enrollment students and students enrolled in specific healthcare programs.
A majority of the incoming day students attended orientation on September 1 in advance of classes beginning Wednesday, September 2 at MWCC's main campus in Gardner, satellite campuses in Leominster, Devens and Fitchburg, and online.
President Daniel M. Asquino and college administrators welcomed the group with advice ranging from ways to achieve academic success to navigating around the main campus while a new science, technology, engineering and math (STEM) building is under construction and other campus renovations are underway.
When completed next year, the renovations and new building will transform the college and enhance the academic experience for all students, he said.
Coordinated by the office of Student Life, the orientation sessions provide students with an opportunity to learn about college life and MWCC programs and activities. Students met with faculty, deans and advisors, toured the campus, received information about campus resources, and attended a student club expo. The event also included a presentation by national motivational speaker Jermaine M. Davis. He encouraged the students to identify their passion in life and then persevere until they achieve their goals.
"As you achieve your goals, your life will inspire other people," said Davis, who also delivered a presentation to faculty in the afternoon.
"There are not too many opportunities in our lives when we can take the time and energy to invest in ourselves. This is one of those times for you," said Dean of Students Jason Zelesky, adding that the college community recognizes each students as individuals. "You matter. Your success matters. And we want nothing more than to watch you grown and to see you achieve your educational goals."
Vice President of Academic Affairs Melissa Fama, Associate Dean of Students Greg Clement, Student Government Association President Carrie DeCosta, and Student Trustee Tom Berger also were among the featured speakers.