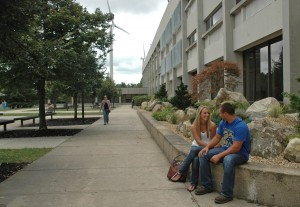 MWCC welcomed thousands of new and returning students onto its main campus in Gardner and satellite campuses in Leominster, Devens and Fitchburg, as well as students enrolled in online courses. The new academic year began Sept. 5. 
More than 1,000 of the new students recently attended day, evening and program-specific orientations, marking a dynamic start to the 2012-2013 academic year. Coordinated by the office of Student Life, the orientation sessions provide students with an opportunity to learn about college life and MWCC programs, support services, and activities.
A majority of the new day students attended orientation on Sept. 4, which included seminars and other activities. Students met with faculty, deans and advisors, toured the campus, received information about college resources, and attended a student club expo. 
During the orientation for day students, President Daniel M. Asquino and college administrators greeted the incoming students and encouraged them to become involved with campus activities and tap into college resources to make the most of their experience at MWCC. Executive Vice President Ann McDonald, Assistant Dean of Students Greg Clement, and comedic motivational speaker Michael Miller also welcomed the students.
Orientation sessions for evening students and family and support networks also were offered to acquaint newcomers to the college.
In addition to the orientation events, the Center of Excellence for Veteran Student Success hosted a welcome for veteran students. The Aug. 29 event featured a variety of speakers who addressed topics relevant to veterans and active military members returning to college. Speakers included Nick Dutter and Tommy Furlong, veteran outreach coordinators for Home Base, a partnership between the Red Sox Foundation and Massachusetts General Hospital, which provides clinical care and support services; Kevin Lambert of the Massachusetts Department of Veterans Services Statewide Advocacy for Veterans' Empowerment (SAVE) program; and several college faculty and staff members.