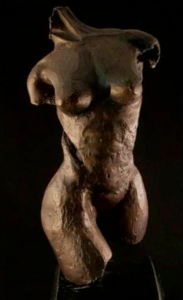 Mount Wachusett Community College's East Wing Gallery is currently hosting an exhibition of sculptures by Leominster resident Mark Burnett who will discuss his work at a free gallery talk on Thursday, Feb. 16.
Burnett's exhibition entitled "Sculptures" features bronze works of art from the sculptor who works in mediums as varied as stone and fruit.
In his artist statement, Burnett recounted his first encounter with carving was with apples, in the third grade, a project in which his mother proudly saved for years. Burnett lives in Leominster, Massachusetts, works as a firefighter and hopes to further his art education and continue to demonstrate his artistic ability and exhibit his pieces to a public audience.
All are welcome to visit the gallery, attend the reception on Friday, Feb. 24 from 5:30 to 7:30 p.m. and participate in the free gallery talk that will take place on Thursday, Feb. 16 from 12:30 to 1:30 p.m. The exhibition is currently underway and will run until March 9.
The East Wing Gallery, housed in the Raymond M. LaFontaine Fine Arts Center on the Gardner Campus, is open Monday through Friday from 8 a.m. to 5 p.m. In addition to the exhibit from Burnett, a number of student works are shown in the space.