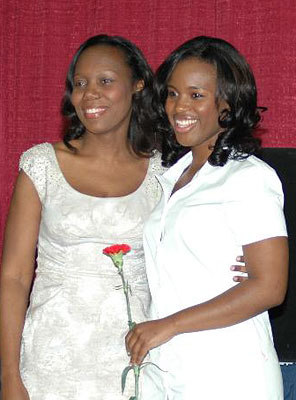 Whether they came to MWCC directly out of high school, as a career-changer or transferred from another college, 140 area residents reached the extraordinary achievement of completing the academic requirements needed to become Registered Nurses.
The largest class in the history of MWCC's nursing program was recognized during a traditional pinning ceremony on May 18 in the Fitness & Wellness Center.
The graduating class includes students enrolled in the day and evening programs, LPNs who returned to continue their education through the college's Bridge to Nursing program, as well as members of the Pre-Nursing Academy for recent high school graduates. This year's class also included 28 students who began their studies at Atlantic Union College and were welcomed into MWCC's program as transfer students after AUC closed last year.
"Our graduates came to us through many paths and will now leave here and will continue on their journeys," said Eileen Costello, dean of the School of Health Sciences and Community Service Programs. "Our hope for you is for continued success and personal fulfillment in your chosen profession."
President Daniel M. Asquino congratulated the graduates on their academic achievement and their choice to enter the "noble profession" of nursing.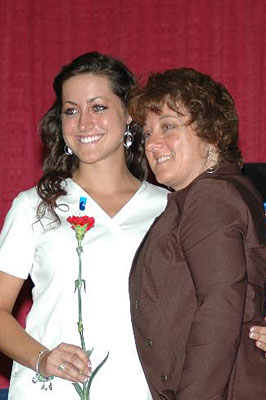 Mary Grant, clinical director of long term services and support for the Commonwealth of Massachusetts/Mass. Health and a former state representative, delivered the keynote address. She encouraged the students to apply their knowledge and skills to the myriad issues facing health care today, noting that they will be among the leaders of tomorrow. "Get the highest education that you can that fits for you and find good mentors," she said. "And teach each other, always."
Dressed in traditional nurse uniforms, the students were welcomed into the profession by having the program's nursing pin fastened to their lapels by a family member, friend, or an alumnus of the program, or a faculty member, to the cheers of family and friends. The pin symbolizes where the nurses completed their studies to become an RN and distinguishes them from other health care professionals. The eight-star MWCC pin is imprinted with the words "Service to Humanity and the World."
As part of the ceremony, the students also recited the nurses' pledge, which that dates back to Florence Nightingale.