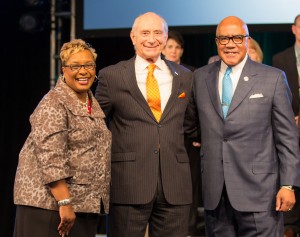 President Daniel M. Asquino was recently recognized for his three decades of leadership at MWCC by the American Association of Community Colleges. President Asquino, who announced plans to retire in early 2017, was among approximately two dozen retiring CEOs honored during the AACC's 96th annual convention in Chicago.
Dr. Asquino is currently the longest serving president among Massachusetts' public institutions of higher education. He was appointed in August, 1987 to succeed the college's first president, Arthur F. Haley.
The college's Board of Trustees has appointed a search committee to find his successor.
Pictured: Charlene Dukes, left, chair of the AACC Board of Directors and president of Prince George's Community College, joins AACC President and CEO Walter Bumphus, right, in thanking President Asquino for his years of service to MWCC, the AACC, and public higher education.