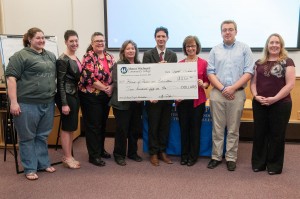 MWCC's Phi Delta Chapter of the Phi Theta Kappa Honor Society recently presented a donation to the House of Peace and Education in Gardner from proceeds raised during the chapter's 10th annual "Project Graduation" conducted last year.
The $250 donation was collected through the sale of the 2013 Commencement DVDs in conjunction with the college's Broadcasting and Electronic Media program.
"We truly appreciate this," HOPE Executive Director Christian Orobello told the chapter members during a visit to the college. "The money you raised will send a child to summer camp who would not be able to go otherwise. The good you've done and the effort you put in really grows within HOPE. We could not exist without the people of greater Gardner."
During this year's 11th annual Project Graduation, half of the proceeds will benefit MWCC's Students Serving Our Students program, with Phi Delta Chapter teaming up with MWCC Chi Gamma Chapter of the Alpha Beta Gamma Honor Society to raise funds to help students in need. Members of the two honor societies are also conducting a food drive through Commencement day, on May 21.
All graduates and their guests are being asked to bring a non-perishable food item to the Commencement rehearsal or ceremony. Receptacles will be located at entrances to the Fitness and Wellness Center and all donations will be delivered to the Gardner Community Action Committee's food pantry to benefit the local community. Donation receptacles are also located on the Gardner campus through May 21.