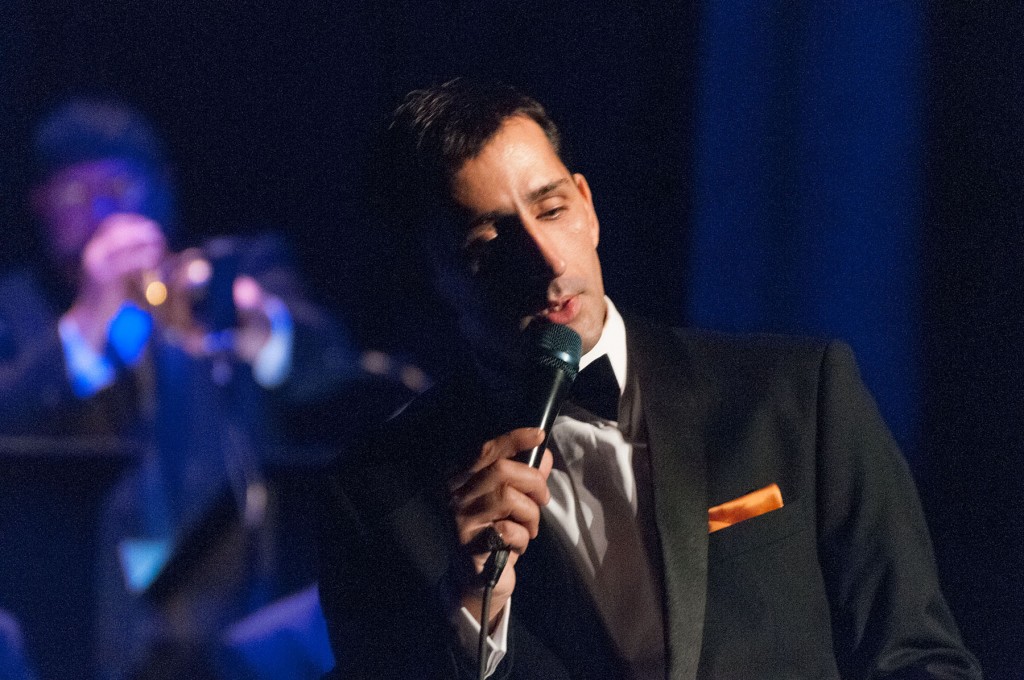 Frank Sinatra stylist Chris Jason and the Sinatra Live Big Band transported a capacity crowd to Las Vegas, 1966, during an Oct. 24 concert sponsored by the Mount Wachusett Community College Foundation that raised more than $38,000 for student scholarships.
Making his first appearance at MWCC's theatre, Jason performed over 20 Sinatra favorites and exchanged quips with audience members in the two-act benefit concert that served as the foundation's annual fundraiser.
"Students need our financial support now more than ever," said MWCC President Daniel M. Asquino. "It was heartening to see so many friends of the college enjoying an evening out with great music, while raising much needed money for student scholarships."
"On behalf of the entire board, I want to thank those who came out in support of our hard-working students. I applaud all the MWCC staff who worked to bring Chris Jason to the stage for Sinatra at the Mount," said MWCC Board of Trustees Chair Tina Sbrega.
Established in 1971, the MWCC Foundation currently offers 38 scholarships, 21 for continuing students and 17 for transfer students, to support degree seekers from a range of backgrounds and academic disciplines. Sinatra at the Mount was part of an annual slate of fundraising events that help provide increased access to a college education at MWCC.
"Thanks to a dedicated team at the college, we raised more than $30,000 for our students," said MWCC Foundation Executive Director Carla Zottoli, "Support from donors and friends helps us award more than $260,000 in scholarships each year."
"What a great evening," said Foundation Board Chair Richard Mohnk. "I want to thank Executive Director Carla Zottoli and her team for hosting a flawless event. The music was wonderful, and the evening was for a very good cause – our students."
After opening with "Come Fly with Me," Jason crooned through renditions of "Luck Be a Lady," "Where or When," "Fly Me to the Moon," My Way," "I've Got You under My Skin" and "Strangers in the Night." Shortly into the second act, one couple danced to Jason's version of "A Summer Wind."
To cap off the night, the Sinatra tribute artist returned to a standing ovation for one final performance of "New York, New York."
In paying tribute to Sinatra, Jason adapted songs from the 1966 live album, "Sinatra at the Sands," and "The Great American Songbook" and infused the artist's trademark humor into his performance.
– Cameron Woodcock