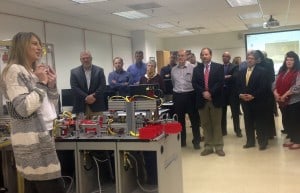 State lawmakers joined community and business leaders to underscore the value manufacturing brings to the region and brainstorm ways to employ more workers in this prosperous and growing field during the monthly meeting of the North Central Massachusetts Manufacturing Roundtable.
The January 5 meeting was hosted by Mount Wachusett Community College at its Devens campus, and included tours of the college's Manufacturing Workforce Center and equipment demonstrations.
Nearly 40 people joined MWCC President Daniel M. Asquino for the dialogue, including state Senators Jennifer Flanagan, Anne Gobi and Jamie Eldridge; state Representative Jennifer Benson; Thatcher Kezer, MassDevelopment senior vice president, Devens; Gardner Mayor Mark Hawke; Fitchburg Mayor Stephen DiNatale; North Central Massachusetts Chamber President and CEO Roy Nascimento; Nashoba Valley Chamber President and CEO Melissa Fetterhoff; Greater Gardner Chamber President and CEO Jim Bellina; and representatives from the North Central Career Center, Workforce Investment Board and offices of Congressman Jim McGovern, Congresswoman Niki Tsongas, and state Representative Harold Naughton.
Much of the discussion focused on changing public perception about manufacturing by raising awareness about today's clean, modern and safe facilities, diverse, well-paying jobs, employee benefits and opportunities for career growth in the industry. Attendees vowed to remain committed to fighting the stigma associated with manufacturing by enhancing collaboration with area school systems to provide career information to students, parents and educators.
"There is a greater awareness, but it hasn't risen to the parents' level" of recommending manufacturing as a viable, stable career field for their children, said David McKeehan, former president of the North Central Massachusetts Chamber who founded the Manufacturing Roundtable 15 years ago as a way for business and industry leaders to address mutual concerns and grow the region's economy.
Manufacturing accounts for nearly 25 percent of the workforce in North Central Massachusetts, yet finding workers remains a critical issue, particularly among young people who are needed to fill positions being vacated by retiring baby boomers.
"Manufacturing is what built us. This is the backbone of our community," said Senator Flanagan.
MWCC opened its Manufacturing Workforce Center in fall 2013 in response to the increasing demand for production workers. In addition to the Industry Readiness Training Program, the college offers a variety of credit and noncredit STEM programs including analytical laboratory & quality systems training, mechatronics and associate degrees in biotechnology and manufacturing technology.
This year, MWCC will continue offering free training in advanced manufacturing through its Industry Readiness Training Program. The next, six-week course begins on January 19 at the Devens campus.
The training program is made possible through a Trade Adjustment Assistance Community College and Career Training (TAACCCT) grant from the U.S. Department of Labor, Employment & Training Administration. For more information about registering, visit mwcc.edu/advancedmanufacturing or contact the campus at 978-630-9883 or creifsteck@mwcc.mass.edu.