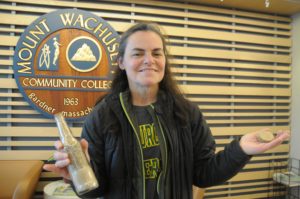 When Mount Wachusett Community College student Wendy Newcomb graduates on May 16, the ceremony will not only commemorate her education at the Mount, but be another chapter in her journey as an entrepreneur creating dog biscuits out of spent grains from breweries even as she battles a neurological disorder with no treatment or cure.
Newcomb works with local breweries, Wormtown Brewery in Worcester and Wachusett Brewing Company in Westminster, to source grains that form the basis of her dog biscuits. These spent grains have been used in the beer fermentation process and are not of use to the breweries anymore, but are still able to form a core ingredient of Newcomb's biscuits. This is part of an ongoing trend of breweries seeking to recycle or reuse their waste products from the brewing process. Her biscuits can be bought at the breweries or the Brew Dog Biscuit Etsy shop.
Newcomb credits her courses at MWCC for reinforcing the importance of quality in products and networking as a business owner. While quality is important no matter what your business, connections are key for small businesses, she said.
"I believe networking is most important for small businesses," said Newcomb. "My favorite part is when I go to fairs and events and see dogs and their owners… I enjoy learning the stories of owners and their rescue dogs."
When Newcomb returned to school, having stopped her education due to life challenges and then supporting her daughter through college as a single mother, she was diagnosed with Corticobasal Degeneration Syndrome (CBD). CBD is a progressive neurological disorder with no treatment or cure. It affects Newcomb's speech and motor control and it will not get better.
"I will not let my condition stop me, I can do it… here at Mount Wachusett Community College, my fellow students have accepted and supported me despite my condition. You have all stood up for me and here at Mount Wachusett Community College, no one gets left behind," Newcomb said in a speech she prepared for commencement that is featured on MWCC's website.
Newcomb plans to continue her business journey this fall at Fitchburg State University pursuing a business degree. Newcomb will graduate with a certificate in Manufacturing Technology – Mechatronics.