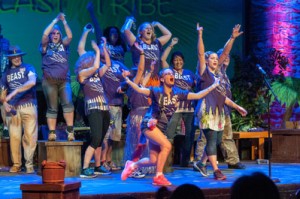 Theatre at the Mount's January 23 production of Survivor, the Musical culminated with the naming of Jillian Whitney as "Sole Survivor." Whitney, who is a Theatre at the Mount performer and hails from Rindge, NH, competed against 23 other performers and  local business leaders  to see who could "out-sing, out-perform, and out-shine" in a full evening of musical theatre challenges.
Singing, dancing, acting, puzzles and trivia were all part of the competition in which Whitney was the last performer standing.
Survivor, the Musical raised funds for The Boys and Girls Club of Fitchburg and Leominster with support from many area businesses and individual sponsors.