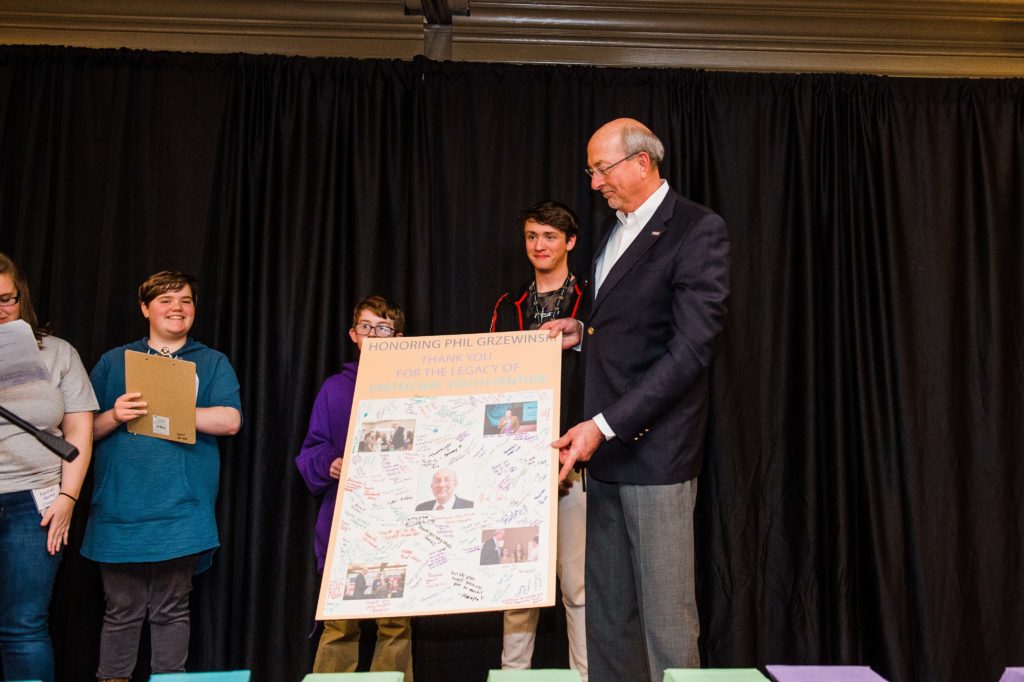 The United Way Youth Venture program held its fourth annual Spring Showcase at Great Wolf Lodge in Fitchburg, Massachusetts on March 14, 2019.
The event gave close to 200 students from around the region – representing 50 community service teams – a chance to show off their youth-led, youth-created service programs to the community.
Community members, officials, school staff, and parents who attended were impressed by the ideas, passion and problem-solving ability of the students.
"I was absolutely blown away by how brilliant and creative these young people are. They remind us to look at problems as opportunities to use our skills, resources, and communities to make positive impacts in the world around us and in the world at large," said Maria Milagros Vazquez.
The teams who attended the showcase displayed a wide range of projects, from creating awareness of mental health issues and lesser-known diseases such as POTS, to making their schools a better place by creating a school newspaper and ideas to end bullying and racism. Students also tackle global issues by supporting the Peace Corps and disadvantaged global communities.
"This was another opportunity to be moved by the students' commitment to change and making their communities better for the future," said Mount Wachusett Community College President James Vander Hooven.
Over 9,000 students have been actively engaged in the United Way Youth Venture program, with more than 100 teams working in the community across 24 schools. The schools and district partners include Fitchburg, Gardner, Leominster, Ayer Shirley, Ashburnham-Westminster, Winchendon, Parker Charter, and Monty Tech.
Students presented Phil Grzewinski, retiring, long-time president of the United Way of North Central Massachusetts, a signed poster recognizing him for bringing Youth Venture to North Central Massachusetts and for his support, leadership and incredible legacy.
The United Way Youth Venture Spring Showcase was made possible by: Aubuchon Hardware, Bemis Associates, Inc., Enterprise Bank, Great Wolf Lodge, Heywood Hospital, The Lexvest Group, Main Street Bank, P.J. Keating Co., Rollstone Bank & Trust and UMassMemorial HealthAlliance-Clinton Hospital and other community collaborators.
The United Way Youth Venture program is a partnership between the United Way of North Central Massachusetts, Mount Wachusett Community College and Ashoka's Youth Venture. The program empowers youth through support for innovative, community outreach proposals and helps them gain essential experience that will help them to become the future leaders and innovators of the community. Additional information about the teams can be found at mwcc.edu/uwyv.