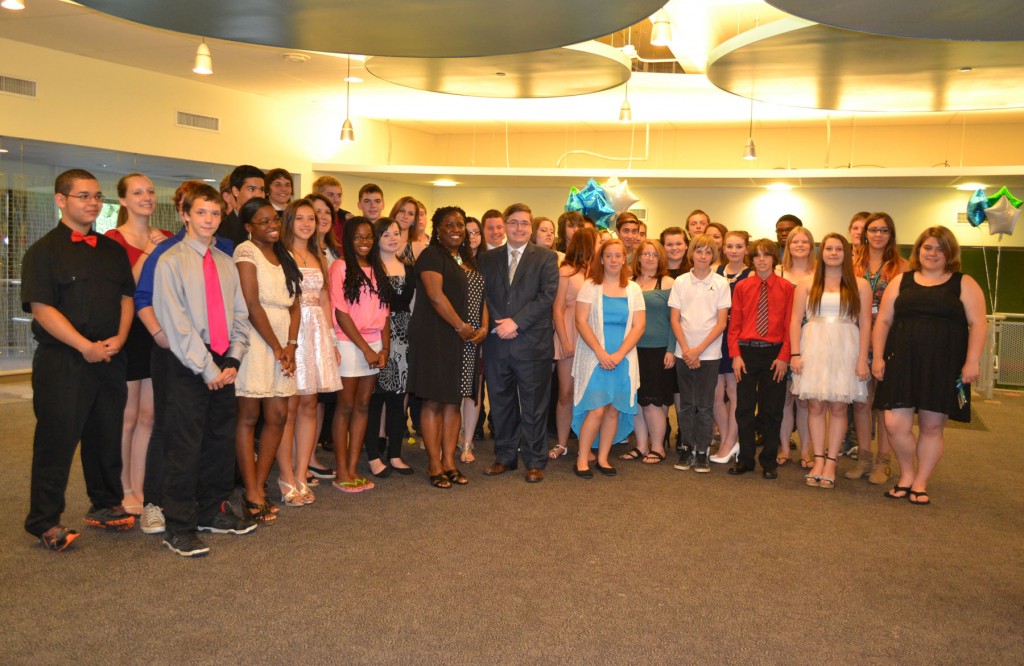 Dozens of area high school students from Gardner, Athol and Winchendon were recently recognized for their academic success in Mount Wachusett Community College's Upward Bound Math and Science program, a federal TRIO program celebrating its 50th anniversary this year.
Sixty-three students participated in the program's summer residential component, which included dual enrollment courses, extracurricular activities, career exploration and field trips and took place at Fitchburg State University.
State Rep. Jon Zlotnik of Gardner was the keynote speaker. Lea Ann Scales, MWCC Vice President of Access, Transition and Development delivered a welcome from the college. UBMS Director Angele Goss and program coordinator Ralph Hogan also congratulated the students on their success.
"The six-week residential UBMS program provides a great environment for students to grow academically, socially and culturally," said Angele Goss Director of Upward Bound Math Science and the North Central Mass Talent Search program, both offered through MWCC's Division of Access and Transition. "We build a small supportive community that allows student to take positive risks toward educational and personal development."
The program is offered to students who have an aptitude for math and science and are in grades 9 through 12 at Gardner High School, Athol High School and Murdock Memorial Middle/Senior High School in Winchendon. Two thirds of the students are from low income or first-generation college families and have an identified need for services.
During the summer, students dual enrolment courses in biology, psychology and English and attended a leadership conference, career roundtable, a variety of recreational and educational, career building workshops. The also learned languages from Rosetta Stone, Spanish, Korean, Mandarin and Italian, participated in community service. Other summer highlights include trips to several colleges and universities, Boston, Mystic Seaport, a talent show and family fun night.
MWCC's North Central Massachusetts Upward Bound Math and Science program began in 2008 with a grant from the U.S. Department of Education. In 2012, the college received a five-year, $1.3 million grant to continue funding the program. Now completing its seventh year at the college, the program prepares high school students from Gardner, Athol, and Winchendon for success in high school and college in the fields of math and science.
The primary goal of the program is to prepare high school students for postsecondary education programs that lead to careers in the fields of math and science. The program provides a comprehensive academic year, summer and bridge program during the-five year period that is customized to the needs of each participant. On Saturdays and school vacations during the academic year, students  participate in college tours, monthly science, technology, engineering, and math (STEM)-based cultural/academic enrichment opportunities, hands-on laboratory activities; STEM-based field trip, lectures and other activities.
The students also receive individual success plan development and follow-up meetings with academic counselors and program aides, secondary school course selection advising, after-school tutoring, guidance and assistance, alternative education programs, parent/guardian workshops, e-mentoring and workshops.
Freshmen and sophomores have access to state-mandated test preparation and a career fair and roundtable, while juniors and seniors have access to dual enrollment courses, SAT and ACT preparation, Accuplacer preparation, a college fair, college admission assistance, financial aid assistance, and postsecondary course selection advising during the academic year.