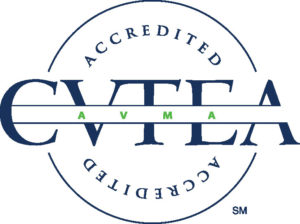 We are pleased to announce the accreditation of our Veterinary Technician program by the American Veterinary Medical Association (AVMA) Committee on Veterinary Technician Education and Activities (CVTEA) and the pinning of our first class of Veterinary Technicians on December 19, 2019.
Launched in 2017 thanks to a grant from the Commonwealth of Massachusetts Workforce Skills Cabinet, the two-year Associate's degree program prepares students to sit for the Veterinary Technician National Exam tests.
"We are so thrilled to graduate our first wave of students and to know that they are employed in this high-demand career," stated Veronica Guay, Assistant Dean of the School of Business, Science, Technology and Math. "I am so proud of both our students, and Alexandra McNamara CVT, Veterinary Technology Department Chair and Program Director, who were instrumental in our achieving this accreditation."
Mount Wachusett Community College is one of only five Massachusetts colleges to hold the CVTEA accreditation. To learn more about the Committee on Veterinary Technician Education and Activities, you can visit their website.