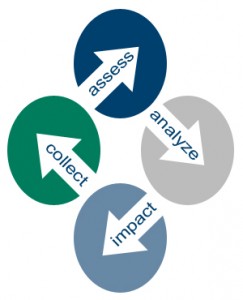 Outcomes assessment is an ongoing process aimed at measuring and improving student learning. It involves making our expectations explicit and public; setting appropriate criteria and high standards for learning quality; systematically gathering, analyzing and interpreting evidence to determine how well performance matches those expectations and standards; and using the resulting information to document, explain and improve performance.
Assessment helps us create a shared academic culture dedicated to assuring and improving the quality of higher education.
For assessment related questions, please contact Dr. Michelle Paranto, Dean of Curriculum, Instruction and Assessment at 978-630-9487 or via email at mparanto@mwcc.mass.edu.