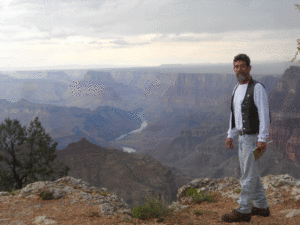 This spring, Fitchburg State University named Paul A. Thibodeau as its Graduate Student Leadership Award Winner. Thibodeau is a graduate of The Mount and received his bachelor's in human services at Fitchburg State in 2015. However, Thibodeau is much more than his academic career. He is a rich storyteller, the rare person that makes the listener want to stop and absorb the experiences being shared.
 The Green Hill Park Worcester native did not grow up with visions of a master's degree in human services. His career path found him working in construction in the Greenfield, Massachusetts area until arthritis made this work impossible for him. He then found work in healthcare as a nurse's aide in a detox unit. This experience sparked his interest in behavioral health and helped to lead him to where he is today.
In 2009, the economic downturn found many people out of work, including Thibodeau, and it was a friend of his who suggested they go to MassRehab for help finding work. It was there that the case manager encouraged him to pursue a degree with the help of the TRiO Student Support Services program, a federally funded program which supports access to higher education for first-generation, disabled, and under-employed or displaced workers.
He credits the MWCC staff and tutors in the TRiO Visions program for encouraging him and helping him through the fear of the unknown that a college classroom presented and giving him the confidence to be what he never thought he would be – a college student. He went on to graduate from MWCC with highest honors before transferring to Fitchburg State where he graduated summa cum laude and distinguished scholar.
All the while, Thibodeau has led an extraordinary life. He has traveled by motorcycle extensively, over 250 thousand miles on the North American continent. He has skipped stones in every body of water bordering North America, from the Baja Peninsula of Mexico to Point Barrow, the northernmost point of the United States territory and beyond. He survived a car accident in 2017 that left him with a traumatic brain injury and shattered femur, neither of which have stopped him from moving forward. "The fates have let me live through adversity so that I can use that strength to help people who need it," he said. The accident delayed his graduation by a year but did not dampen his commitment to his studies.
Today, Thibodeau works as a counselor for Making Opportunity Count (MOC, previously Montachusett Opportunity Council), where he is able to use his kindness, empathy, and life experience, including his 25 years of sobriety, to help counsel and encourage others through diversity in their own lives.