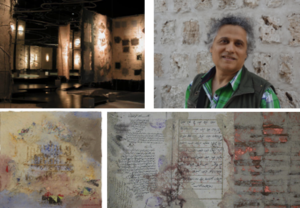 Mohammed Abou El Naga is a multidisciplinary visual artist, art professor, curator and developer. Throughout his colorful career, he created award winning art projects, assisted his community and brought up new generation of young artists with his teaching, workshop and his multitude of practices. Born in the Egypt, Abouelnaga graduated from the Faculty of Fine Arts and completed his PhD in Philosophy of Art from Alexandria University. He was the first Middle Eastern artist to receive a grant from the Japan Foundation to study the arts of papermaking.
At Cairo University, he teaches painting using nontraditional techniques that integrate different materials with the imaging and printing methods. He is also driven to the use of raw environmentally friendly and recycled materials as he believes "it is a way of an aesthetic and a functional re-thinking opening a gateway of seeing objects from new perspectives".
He had solo shows in Egypt and around the world that varied between painting, video and installation, such as Borusan Kultur Ve Sanat Association, Istanbul, Turkey (1997), Townhouse Gallery, Cairo (2000) and Art Academy, Rome (2000). He was also part of numerous group exhibitions including the 23rd Book Art (2003), Guest of Honor in Festival de Popoli del Mediterraneo, Sicily (2005), Festival Mondial des Arts Nègres, Dakar (2006), What Happens Now?, Art Palace (2007) and most recently in Exile, Art Centre Silkeborg Bad, Denmark (May, 2009). Abouelnaga also represented Egypt in the Venice Biennial 2002 and received the First Prize of the Alexandria Biennial in 2001. His recent exhibition also includes: "Exile" at Art Centre SilkeBorgBad (Denmark) 2009, "Building Bridges", Art Center, Mexico (2011, "Egyptian Art", Gallery Art Space, Dubai, "African Art Mojo Gallery, Dubai (2013), "Hay Carriers" at Markheya Gallery, Doha (2013), "Soad Hosny", at Janet Rady Fine Art, London, 2013. He recently received the first price for his Video Art Cairo 11 from Danube Video Art Festival in Austria.
Abou El Naga was the curator of Qatar Visual Art Center. He created in 2002 the biggest and most successful Artist Book Biennial in the Alexandria Bibliotheca. Entitled "Imagining the Book". In 2009, he was assigned by the Egyptian Ministry of Culture to become the curator of the 25th Alexandria Biennial for Mediterranean Countries. In 2011, he was the curator of Sharjah Children Art Biennial. El Naga recently participated at the TransCultural Exchange conference in Boston.
In 2002, he founded Elnafeza for Contemporary Art & Development working to create sustainable employment in rural villages and communities in Egypt by reviving the traditional craft of papermaking. His process addresses a number of challenges in the community, including providing skills and work to the unemployed, women, and the disabled; recycling agricultural waste which would otherwise be burned; and creating new markets for paper products and art.