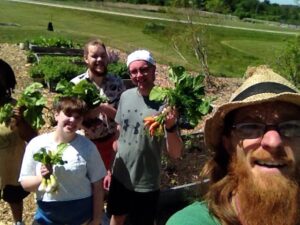 During the spring and summer semesters, students taking our Horticulture course are enjoying their time outside and in our greenhouse with Professor George LoCascio.
The course is designed to address the current climate crisis and food insecurity. This is accomplished in two ways; planting native plants that support biological diversity in order to make a more resilient landscape and to "grow food everywhere".
Students grow plants from seeds and propagate them with cuttings in order to transplant a variety of fruits and vegetables from the greenhouse to the outside beds. Some of the crop plants are edible native plants. For example, students just recently propagated blueberries and elderberries from cuttings that will hopefully be ready for sale during our fall harvest festival. Both blueberries and elderberries have been cultivated for thousands of years by the original indigenous peoples of this area, the Wabanaki (Dawnland Confederacy).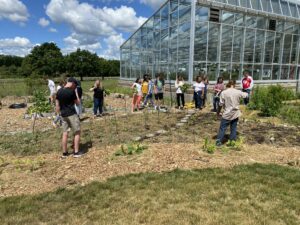 In collaboration with the Brewer Center, the students have been growing food outside in our raised beds and indoors with a small hydroponics system. After harvest, our food then goes to the food pantry to supplement the non-perishable items with fresh produce.
On June 28, students presented their concepts for the future of the food produced by the greenhouse to assembled staff, faculty, and students.
Samantha Roccanti presented her plans for a Pumpkin Festival this fall, which is tentatively scheduled for October 19, with thoughts to include a native plant sale and activities for children.
Sean Sweeney presented his idea for a Community Garden which would aim to create a clean, green space for individuals to learn how to create their own at home.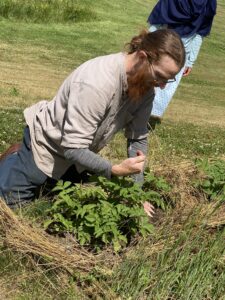 Students Skye Sweeney and Max Zbikowski presented their MWCC Farm Stand concept, which would provide fresh produce to the local community, generating revenue that could be used to expand and improve the growing area.
Kezia Obuobi and Samina Mian presented their idea for a CSA, short for Community Supported Agriculture. The CSA would offer shares to students and the wider community in exchange for a portion of each week's harvest.
It is only appropriate that the MWCC land provides food for the community. Since European contact, the property was used as a farm, first by three generations of the Temple family, and then when Martha Temple married Henry Heywood, it became Heywood Farm.
The Heywood Farm was one of the finest working farms in Worcester County, and the main barn whose stone ramp is still visible on the property was the largest in the Commonwealth in the early 1900s.
The farm boasted 132 head of cows, and a pair of registered Holstein bulls as well as colts and horses. The farm provided fresh milk, cream, eggs, and vegetables to the many Heywood relatives throughout Gardner.
For more information about the Wabanaki (Dawnland Confederacy) please visit the Native Land Digital website.. Click here to learn more about the MWCC Natural Resources degree program.