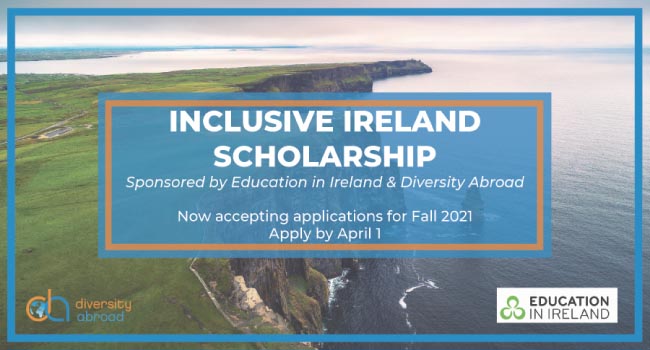 In collaboration with Diversity Abroad, Education in Ireland recently announced the creation of a new scholarship program: the Inclusive Ireland Scholarships, which will support BIPOC (Black, Indigenous, and People of Color) students to study abroad in Ireland.  With a commitment to providing academically rigorous and culturally immersive study abroad experiences for students from all backgrounds and identities, and a strong belief that diversity among our visiting students only serves to enrich our society and our campuses, we are excited to welcome the inaugural cohort of scholars in Fall 2021.
The application for the Fall 2021 cohort opened this week and can be found on the program website.
There are nineteen institutions participating across Ireland, including Trinity College Dublin and the Waterford Institute of Technology.  In order to be considered for the scholarship, students must meet the following criteria:
Be enrolled as an undergraduate at a college or university in the US
Identify as BIPOC (Black, Indigenous, and People of Color)
Intend to study abroad at one of the nineteen participating institutions during the Fall 2021 term
Have a cumulative GPA of 3.0 or above.
The deadline for applications is April 1, 2021.  Further details are available on the website.