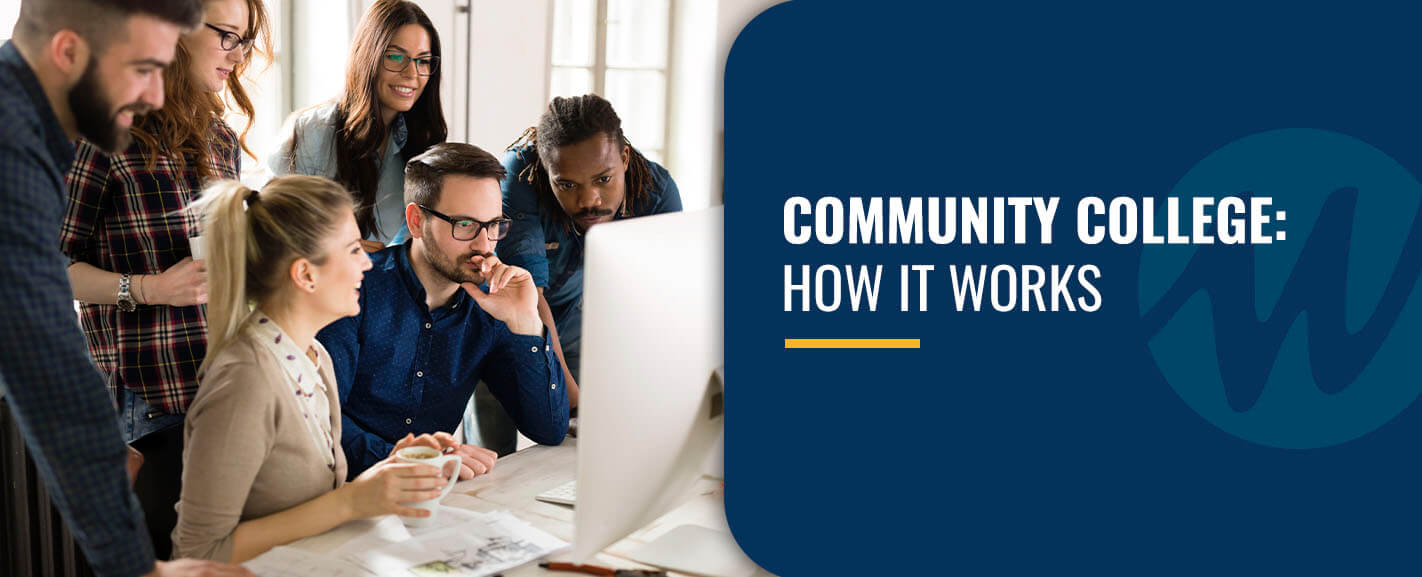 Other than the popular series about an unlikely group of misfits attending community college, community colleges don't get much attention in popular culture, so many people aren't sure how they work. Firstly, you may hear people call community colleges two-year colleges because they award two-year degrees, called associate degrees. Or, some may call them junior college, as they can be a stepping stone to a four-year college or university. If you're a nontraditional student, in particular, you may be wondering — what's community college like, how does a community college work and why is going back to school valuable?
This guide should help answer some of the most common questions about how community college works.
What Is a Community College?
Community colleges aim to bring high-quality postsecondary education to students at an affordable price. In general, community colleges cost a small percentage of what four-year universities do, and they're a particularly affordable option for in-state students.
The highest degree awarded by community colleges is an associate degree, but they also offer certificates in a wide range of subjects. You can even choose to take individual classes at a community college if you're interested in a topic or you'd like to add supplementary education to your resume.
While most four-year universities strive to keep their students in attendance, the goal of two-year colleges looks a little different. Many institutions have transfer programs with four-year institutions so students can get their associate degree and bachelor's degree in less time. Some students only attend community college for one year until they transfer into a four-year university.
Who Goes to Community College?
Of all undergraduate students in the United States, 40% attend community colleges. They're a sensible choice for those who don't want to or cannot leave their state to attend school, and many students work full- or part-time jobs during their enrollment. Some adults go back to school to change careers or seek to advance in their current field and need a degree or certificate to accomplish their goals.
Demographics differ by state and region, but the general enrollment demographics are:
7% Asian
13% Black
25% Hispanic
45% White
Additionally, 37% of community college students had a yearly income of less than $20,000.
How Much Does Community College Cost?
Community colleges are an incredibly affordable option for many. Compared to four-year colleges, with an average tuition of $15,532 a year, two-year colleges cost $4,918. And even with the lower yearly costs, community colleges still offer financial aid, scholarships and grants.
A beneficial grant awarded to students who demonstrate financial need is the Federal Pell Grant. Unlike student loans, you don't have to repay a Pell Grant. Every year, filling out the Free Application for Federal Student Aid will help you determine your eligibility for federal student aid based on your income, tuition and full- or part-time status.
What Types of Programs Do Community Colleges Offer?
Community colleges have a host of programs to serve their students' needs. Two-year colleges have unique program offerings, from traditional liberal arts and STEM classes to developmental education and technical courses. For example, at Mount Wachusett Community College, we offer degrees and certificates in subjects like:
Automotive Technology
Communication and Media Arts
Computer Science
Education
Health and Human Services
Public, Social and Emergency Services
Veterinary Technology
As you can see, community colleges offer a diverse range of programs, some of which you can't get at four-year colleges. Developmental education courses in math and writing help students attain the necessary skills to enter introductory college courses. Some colleges also offer technical courses in automotive, HVAC, electrical and plumbing.
How Does Transferring to a Four-Year College Work?
Community colleges hope their students graduate with an associate degree, but they know many have aspirations to attain a bachelor's degree as well. To meet their needs, community colleges form partnerships with four-year colleges and universities to make transferring easier. According to one study, almost 31% of students at two-year colleges transferred to four-year universities within six years.
The transfer relationship varies from school to school, but most community colleges strive to make the process as seamless as possible. They do this by creating courses that, in most cases, transfer directly to the four-year college's curriculum. While not all credits always transfer, this relationship streamlines the process for students and helps them get their degree sooner.
What Types of Jobs Are Available to Community College Graduates?
Community college graduates who don't go on to receive a bachelor's degree still have a host of great job opportunities. Most colleges offer career services centers, which help prepare students for the job market, write resumes and develop networking and interview skills.
If you're a few years past the traditional college age, you may be asking yourself — is it worth going back to school at 40 or beyond? The Bureau of Labor Statistics estimates occupations for those with an associate degree will grow by 18% by 2026, so it's a wise investment. Some of the jobs with the highest projected job growth include computer user support specialists, bookkeepers, teacher assistants, nursing assistants and automotive service technicians.
What Are the Benefits of Attending a Community College?
There are countless benefits of going back to school and attending community college, including the low cost, opportunities for personal growth and higher salary and job prospects for those with more than a high school diploma.
Cost
The most significant benefit of community college is that you get a high-quality education — often, four-year college professors also teach courses at two-year colleges — for a much lower price. On average, the cost is almost one-third the price of attending a traditional university.
Job Opportunities
Attending community college for your associate degree or a certificate can increase your job prospects. You can even earn more money with an associate degree. On average, those who earn an associate degree make one-third more in annual income than those with a high school diploma or GED. Additionally, community colleges have partnerships in the community and can even facilitate networking and interviews through job fairs.
Diverse Student Population
One fantastic feature of community colleges is that their student population is so diverse. Many students and two-year colleges fit into the category of nontraditional students. Since our student population has such varying needs, we offer assorted services to meet them, including options for child care, tuition assistance and flexible class schedules.
Attend Mount Wachusett Community College
For a community college that genuinely cares about you and your education, choose Mount Wachusett Community College. At The Mount, as our students and faculty affectionately call us, you'll get a high-quality education at an affordable cost, with professors and administrative staff who want to see you succeed.
We have over 70 degree and certificate options, in addition to various focused career training programs. We also offer fully online degree and certificate programs for education with maximum flexibility.
Contact us for more information about our degree and certificate programs, or go straight to our free application. We hope to see you at The Mount soon!